Pentax K20D digital SLR
A serious DSLR for the serious snapper
Since we're all pretty familiar with Photoshop here at Register Hardware we're not particularly interested in the Photo Browser and the associated Photo Laboratory's image-manipulation capabilities, but we liked the former's exhaustive list of every parameter for a selected shot, which is nice if you can't remember exactly what manually-defined white balance you used for that particlarly fine image. Suffice it to say, it works well enough for storing and reviewing your material. Doubtless, readers have their own preferred methods and software for handling their photos.
Having disconnected the K20D from the PC, it was time to investigate some of the camera's other features. The fast-action types among you will appreciate the "motor drive" modes, offering: Continuous shooting (Hi), 14.6Mp JPEG, 3f/s, up to 38 frames in one sequence; Continuous shooting (Lo), which is as "Hi" but 2. f/s until the SD card is full; and Burst, approximately 21f/s at 1.2Mp JPEG "until the camera buffer memory is full".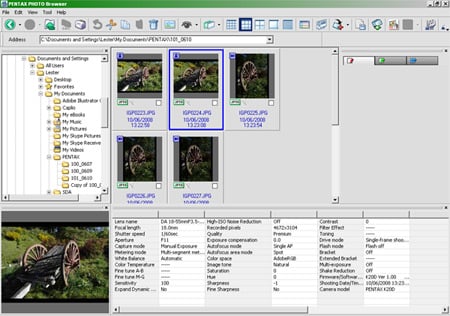 Pentax's Photo Browser
Now, if we hadn't been worrying so much about getting trampled to death, we'd have set the focus to continuous instead of single, which locks the focus at the point at which you hit the shutter release, as you can see from the sample shots later on. The last frame, by the way, is to assure the animal lovers among you that no donkeys were harmed during the shooting of this sequence.
The K20D's pop-up flash has a guide number of roughly 13, and can be deployed in six modes, depending on which exposure mode you're in: Auto; Auto+Red-eye; Flash On; Flash On+Red-eye; Slow-speed sync ("Sets the shutter speed slower depending on the brightness", Pentax explains); Slow-speed sync+Red-eye; Trailing curtain sync ("Discharges flash immediately before closing the shutter curtain"); and Wireless Mode, for cableless sync with Pentax's dedicated AF540FGZ and AF360FGZ flash units.
It's a fairly puny unit, which performs well within its parameters, but you'll want to attach something more substantial for serious work. Pentax notes that the two models mentiond above are "P-TTL auto flash units with a maximum guide number of approximately 54 and approximately 36 (ISO 100/m), respectively", with features including "slave-sync flash, contrast-control-sync flash, auto flash, high-speed sync flash, wireless flash, slowspeed sync and trailing curtain sync flash".
Our overall impressions of the K20D? While we're pretty happy with the K20D's build quality and sheer range of functions. We're really going to have to dedicate a further chunk of time to tweaking the vast number of available parameters and features such as white balance, colour space, LCD colour tuning, Pentax's raft of built-in filters, the anti-shake function, and many more - to get the camera set up the way we like it.