Pentax K20D digital SLR
A serious DSLR for the serious snapper
Oh yes, and last of all, by burrowing into the Custom Settings menu we were able to set the "Preview Method" to "Optical", which rather marvellously allows, by rotating the on-off switch a smidge clockwise beyond "on" offers a depth-of-field preview through the viewfinder in the time-honoured fashion. The default setting is "Live View", which gives you a preview of the shot through the LCD screen. Pah.
The camera fires up in less than a second, and the autofocus is snappy and crisp. The viewfinder is bright, and in this mode displays shutter speed, f number and remaining shots. You just spin the rear thumb-wheel to get your desired f, and away you go.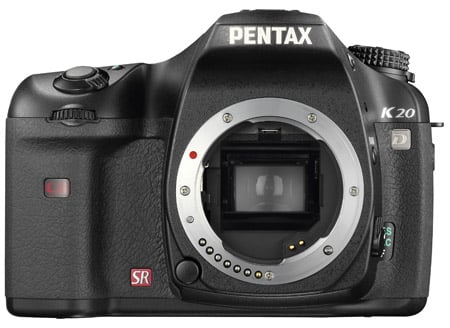 An impressive set of innards sets this camera aside from the field
The built-in light meter works a treat, but if you want to hedge your bets on exposure, there's an Auto Bracket function of three or five frames with step intervals of ±0.5, ±1.0, ±1.5, ±2.0 for 1/2 EV or ±0.3, ±0.7, ±1.0, ±1.3, ±1.7, ±2.0 for 1/3 EV. An Extended Bracket Mode allows simultaneous capture of images with three different white balance, saturation, hue, sharpness and contrast levels, should you so desire.
For those who like to get really hands-on, fully manual mode activates the front thumb wheel for control of the shutter speed. Exposure is indicated in the viewfinder as a series of vertical bars in the viewfinder, extending under and over the correct central exposure as calculated by your selected metering mode. We should add that if you prefer to reverse the thumbwheel operation and use the front for aperture, etc, you can select this throught the Custom Settings in the main menu, which also has options to change the operation of various other buttons in certain exposure modes - something to keep you entertained on long, cold winter nights.
Playback through the LCD screen is all you'd expect from a camera at this price. Brightness is adjustable, and a range of options allows you to display images with all those settings you've so lovingly tweaked to create the image, show multiple images, or select a slideshow, among other options.
To get the images onto your PC - via the USB connector under a flip-up panel on the left of the camera, which also hides the optional power adaptor input and electronic cable release jack socket - you've got Pentax's Photo Browser at your disposal, which will create dated folders for your snaps. Well, sort of - despite our best efforts, we had to make do with manually selecting the source and target folders, and the program seemed incapable of detecting pics which had already been saved, so decided to create copy folders of stuff it'd previously sucked from the camera.