Pentax K20D digital SLR
A serious DSLR for the serious snapper
To complete this litany of knobs, we find the three-position AF lever (Continuous - half depress shutter for ongoing AF; Single - half depress shutter for a one-hit focus; and, gasp, Manual) behind the left of the lens mount. Above that is RAW button which will, if you've got a money shot, up the image quality at the touch of a button. The lens release button is tucked away to the bottom right of the lens mount.
Finally, the mechanical flash release is a fairly unconvincing affair sited above the RAW button. The K20D's backside is unremarkable except for the highly robust, rubber seal heavy battery compartment cover, operated by a metal latch.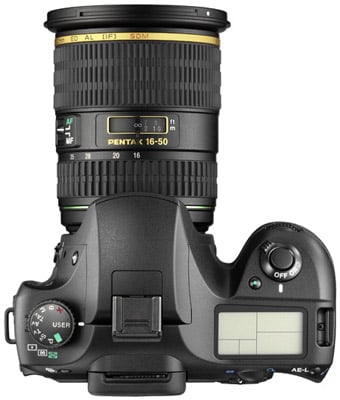 A more modest set of controls
So, what about actually taking a picture? Well, yes, but first there's the issue of which exposure mode to use? Here are the options: Green; Program AE; Sensitivity-Priority AE; Shutter-Priority AE; Aperture-Priority AE; Shutter and Aperture Priority AE; Metered Manual; X speed (1/180 locked); and Bulb.
The Green option is a point-and-shoot affair, which isn't going to be of much interest if you've shelled out for this camera, to be honest. Program is similarly idiot-proof, with the front and rear thumb-wheels allowing shutter speed and aperture adjustment, respectively.
The rest are self-explanatory. There's also a "USER" setting which you can select to store a load of preferred presets, including exposure mode, image resolution, drive mode (Single, Continuous, etc), white balance, and a plethora of other tweaks.
We opted to give this a roll in an old-school Aperture-Priority AE style, setting the ISO to 100 (default 100-400 auto, but widely user-definable between 100 and 3200), single drive mode, white balance on auto, image resolution at Premium-compression 14.6Mp JPEG with the AF on spot and metering centre-weighted.