Pentax K20D digital SLR
A serious DSLR for the serious snapper
The camera's initial set-up routine lets you input your time zone and the time and date, and after that it's pretty well essential to consult the manual for enlightenment as to what all those buttons do. Experienced digital SLR users will be way ahead of us at this point, but the K20D really is bristling with bells and whistles, so a good hour or so familiarising yourself with where everything sits is a sound investment for when you finally get out into the field.
The back is dominated by the 2.7in colour LCD monitor, to the left of which are arranged vertically buttons to trigger the main menu, image deletion, info and playback. On a slightly raised panel to the right are the controls for lighting the top LED screen, which also activates exposure comp; autofocus button - AF is also activated by half depressing the shutter release; and three-way AF dial, switching between Auto, Centre and Select for choosing of 11 focusing points manually.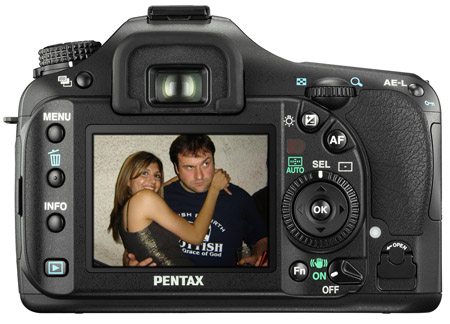 The K20D's impressive battery of rear buttons
Within the AF dial is a four-way controller for manipulating menus, and right in the centre is the OK button. Moving down, we find the "fn" function button and a lever-operated anti-shake switch, next to which is the SD card cover latch - a good, solid piece of metal.
And, just for good measure, the top of the back has an exposure bracket shooting button to the left of the viewfinder (with diopter adjustment slide). To the right sits the thumbwheel principally concerned with aperture adjustment and, just beyond that, an AE lock button.
The top boasts the usual exposure-mode dial, under which is the three-position metering mode lever (16-part multi-segment, centre-weighted and spot), plus hot shoe. The on-off switch surrounds the shutter release, to the left of which is a small green button, which sets the exposure mode to auto. Out front of the shutter release is a second thumb-wheel used to set shutter speed (30s to 1/4000) and, when you've got the exposure comp button pressed, to manually under or over-expose.
The top LED screen, in its least cluttered state, displays shutter speed, aperture, flash status, battery level and the number of snaps you've got left on the memory card.
Sponsored: Minds Mastering Machines - Call for papers now open