Pentax K20D digital SLR
A serious DSLR for the serious snapper
Review The arrival of the Pentax K20D on our doorstep last week marked the end of an era - that of the venerable, battle-scarred Pentax LXs and MXs, which have over the last 20 years or so provided faithful service.
The world has moved on, though, and once the switch had been made to digital, the K20D offered one crucial incentive: it could accommodate a stack of old Pentax lenses without fuss, according to the manufacturer. More on that later.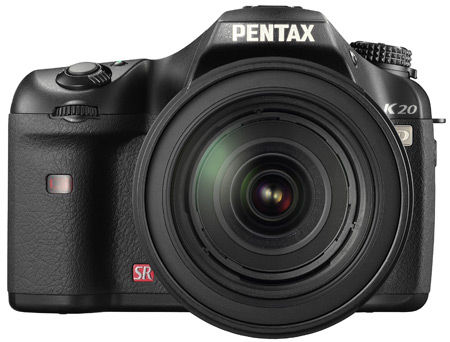 Pentax's K20D: posing for the camera
Unboxing the K20D reveals a 141.5 x 101 x 70mm body weighing in at 715g without the battery. The bundle includes a strap, Li-ion battery and charger, viewfinder cover, AV and USB cables, plus Pentax's Photo Browser, Photo Laboratory and Remote Assistant CDs plus, of course, an ominously thick instruction manual.
The ergonomics of the "fibreglass reinforced polycarbonate body with high-grade steel chassis" are pleasing enough, with the expected rubberised hand grips giving no cause for complaint. The K20D apparently boasts "72 seals on the camera body and 38 seals on the battery grip combine to ensure that humidity, dust and sand cannot adversely affect the camera", although there doesn't appear to be a seal to protect the top-mounted pop-up flash.
The heart of the beast is a 23.4 x 15.6mm CMOS offering around 14.6 megapixels, which you can exploit for either 14.6Mp (4672 x 3120), 10Mp (3872 x 2592), 6Mp (3008 x 2000) or 2Mp (1824 x 1216) JPEGs, or 14.6Mp (4688 x 3120) RAW in either compressed PEF or non-compressed DNG flavours.
The practical upshot of this is, on a 2GB SD card, you're going to get around 82 RAW snaps, 138 14.6Mp JPEGs, 206 of the same at 10Mp, 359 at 6Mp and 931 at 2Mp. Those JPEG figures are for the Premium compression ratio of 1:2.8. All JPEG sizes offer this and Best (1:4.5), Better (1:8) and Good (1:16).
Sponsored: Minds Mastering Machines - Call for papers now open