Blackswift hyperplane hits trouble in Washington
DARPA Mach 6 porkbarrel logroll dash cash slashed
The most ambitious hypersonic aircraft project known to exist - the Mach-6-barrelroll "Blackswift" proposal - has run into stiff opposition from politicoes in control of Washington purse-strings, according to reports.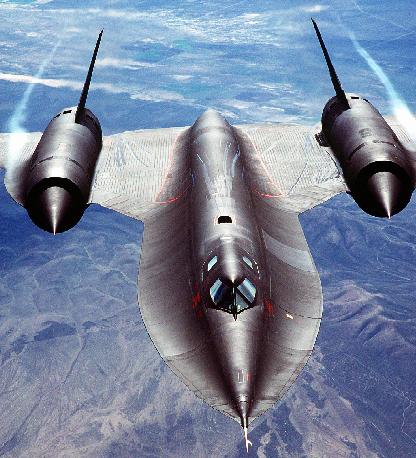 A fast blast from the past - the original Blackbird.
Wired magazine noted last night that the powerful Senate Armed Services Committee has recommended that almost half the first chunk of Blackswift's proposed $800m budget be cut, falling into agreement with like-minded sceptics in Congress. Building the Blackswift may be impossible anyway (at least, impossible in a near-future timeframe) and it would be doubly so on a shoestring budget. As one might expect, the plan is being promoted by DARPA, the Pentagon boffination bureau which doesn't even get out of bed until all the other mad scientists have got headaches and gone for a bit of a lie down. Reportedly it is Tony Tether - chief wingnut-prof at DARPA - who insists that Blackswift be able not only to fly at Mach 6, but perform a barrel roll while doing so.
The Capitol Hill crowd don't fully understand why America needs Blackswift, though. Testy senators, having scribbled all over the project's budget with red ink, reportedly said: "It is not clear... whether a hypersonic cruise aircraft ... designed for long-range flight and recovery offers unique capability and operational utility."
Blackswift is fairly plainly intended as a successor to the famous, beautiful SR-71 Blackbird spy plane. The Blackbird used monster afterburning turbojets mounted in cunning retractor-spike nacelles, effectively transforming itself from a normal jet to a ramjet as it accelerated to a blistering Mach 3+. It finally retired in the 1990s.
Sexy as the Blackbird was, however, it had its critics. In order to fit together tightly under the intense heating and expansion produced at operating speed, the superplane was made to be distinctly loose and rattly at normal temperatures. This meant that it would leak jet fuel copiously as it taxied out to take off, and it needed air-to-air refuelling as soon as it got airborne. Then, due to its enormous fuel consumption, it normally needed some more mid-air rendezvouses with tanker planes during its mission - perhaps topping up both before and after a Mach 3 dash along Vietnam's demilitarised zone or wherever.
Thus the Blackbird was surely not the fast-responding asset that its fans sometimes describe. Far from being quicker than a spy satellite to get above a new location of interest, it would often need to wait days while a small fleet of slowpoke tanker planes was positioned in the right places.
Sponsored: Minds Mastering Machines - Call for papers now open