Motorola Z10 'kick slider' media phone
Media monster mobile Mk II
However, HSDPA-speed browsing on the pre-loaded Opera 8.65 browser is fast and pleasant. You can get full page view or a mobile optimised formatting of pages to aid scrolling through pages. Zippy zooming is also included, with a good spread of useful bookmarks pre-loaded for kick-off.
Subscribers to Sky TV will also welcome the Sky Anytime application, which enables users to view listings and set programmes on their Sky+ system remotely from the phone. A video viewing and content sharing app, vTap, enables Z10 users to browse, search and watch video content from a range of website sources, and automatically get updates for new video content that matches your profile.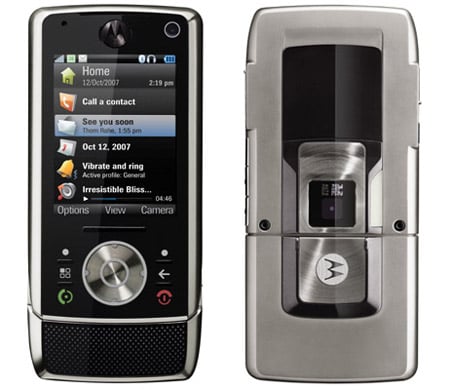 HSPDA yes. Wi-Fi no
The Z10's use of Symbian and UIQ means you can customise the phone with a wide range of software, although the non-touchscreen implementation of the platform on this mobile will limit some of the apps you might enjoy on the Sony Ericsson P-series UIQ models. Still, you can browse and download applications straight from Motorola's bookmarked apps site on the Z10, or visit sites like Handango.com to find third-party Z10 apps.
Alongside the entertainment applications, there's a good assortment of organiser and productivity applications. Push email is supported, with document viewer for attachments, and you can sync email, contacts, and agenda, and back up content using the Motorola PCSync software supplied. Other regular mobile tools include a voice recorder, to-do lists, calculator, jotter and various clock functions. Motorola has an auto set-up option too, for easy reconfiguring of phone settings and backing up contacts over the air. One 3D game is pre-installed, a fun motor-racing game, Asphalt 2.
Motorola quotes up to four hours' talktime on 3G networks or seven hours on GSM, with estimated standby time of up to 400 hours. What you get will, of course, depend on how much you'll be playing around with the multimedia functionality, as plenty of movie watching or music listening will sap the battery more than average. Still, with our average usage we clocked up between two to three days comfortably, which is acceptable on a phone of this type.
Verdict
The Z10 is a step up from the original kick sliding Z8, but it's still not up there with the best smartphones. Top-level features like integrated GPS and Wi-Fi support are absent on this phone. The camera is decent but not a top-notch shooter. There's the size factor too - you may expect a larger display given the phone's footprint. General phone performance was good but there were issues with occasional software glitches and sometimes sluggish keypad responsiveness on our review sample.
Sponsored: Minds Mastering Machines - Call for papers now open

Motorola Z10 'kick slider' media phone
Motorola's second-gen adds more functionality, but still doesn't make the smartphone top grade
Price:
Contract: from free to £150 (on O2). Pre-pay: TBC. Handset only: £300 / $500 RRP