Motorola Z10 'kick slider' media phone
Media monster mobile Mk II
The Z10's 3.2-megapixel camera has an effective autofocus system that enables you to take very pleasing shots, including close-ups as near at 10cm from the subject.
Images have rich colour rendition and are crisp, with very good results possible in bright lighting conditions. Low light and night shots aren't quite as impressive, as the LED flash has limited power and delivers negligible illumination beyond a few feet from a subject. The pixel-count may not be up with the best quality cameraphones around, but you can get some decent snaps from the camera.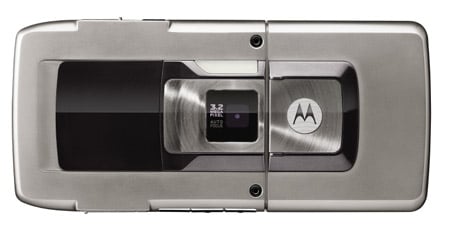 The 3.2-megapixel camera has an effective autofocus system
The Z10 can shoot video at a smooth 30 frames per second QVGA quality that'll play back well on the phone and OK on a PC screen. The phone's editing app enables you to play with both images and video clips, so you can create reasonably sophisticated in-phone mobile videos; you can use storyboards, cut and past clips, add transitions, captions and music. It's simple then to share with friends or upload straight to the internet via the integrated Shozu application.
While it's not cutting-edge phone imaging quality, both snaps and video clip functions are nicely implemented and produce decent results.
The media player functionality on the Z10 includes a multi-format music player, supporting MP3, AAC, AAC+, eAAC +, WAV, AMR NB, MP4, WMA, MIDI, iMelody and G.726 file formats. It's straightforward to use if basic for a sophisticated smartphone, with categories limited to playlists, artists, tracks and albums. The player interface is attractive, with the navpad providing the music controls, and can support cover art as well as offering the usual track information.
The phone can be synced with Windows Media Player 11, or files can copied over using Motorola's PCSync software and the supplied USB cable. You can also use mass storage mode to drag and drop files to the phone's memory card. Mac users will have to make do with Bluetooth or loading up the memory card using a card reader – there's no support for Macs, even in mass storage mode.