Motorola Z10 'kick slider' media phone
Media monster mobile Mk II
Strangely, when you press the camera key on the Z10's side when the slider is open, the front camera is automatically engaged - you have to have the phone closed for main camera action. This isn't in itself problematic – you only have to slide the phone to close it – but it's nonetheless an odd decision by Motorola, as self-portraits are hardly first choice for the vast majority of snapping occasions.
Along with a multi-purpose mini USB socket for charging, data connection and headphones, the Z10's side panel contains a Micro SD card slot, supporting memory cards with up to 32GB of storage to supplement the 70MB of on-board space. Fast access to the media player is possible from a button just above it.
The menu layout and structure is more straightforward than many previous Motorola handsets. The standby page is laid out with plug-ins for quick access to and information from apps and features, such as calendar, messaging, media player and profiles. These can be switched on or off to suit individual tastes.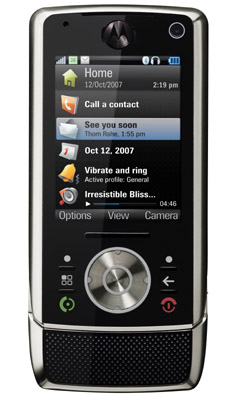 Navigation seems logical enough
The main menu is the usual grid of application icons, though this can easily be switched to lists – an easier option for navigating some longer sub-menus that use unfamiliar icon labels. This is fine to use, with a bit of playing around getting you comfortable with any unfamiliar conventions fairly rapidly.
The phone's default keypad lock is quite quick to come on, which is handy if you want to avoid unwanted button pressing, but sometimes frustrating if you're simply pausing to check something – like a web address or number - before inputting.
Although generally easy to manage, we found that the menu system on our review sample could sometimes be sluggish to react to button presses, taking a touch longer to respond than we'd expect, particularly if other applications were open. Occasionally, too, we experienced odd software glitches that suggested memory was full, requiring us to switch the phone off and then on again. These were rare, but we hope Motorola will be on top of these issues in short order.
Sponsored: Minds Mastering Machines - Call for papers now open