iRobot Roomba 560 robot vacuum cleaner
Clean quietly... or there will be... trouble
The Roomba will do a few normal rooms completely without running flat, but if you've set up lighthouses around a whole floor it may need to recharge before finishing. In theory, you can plug the power brick into a docking station, which the Roomba will automatically head back to for a charge.
Our Roomba found the dock easily enough and snuggled up to it happily, but couldn't get any nourishment once it had done so. If the dock had been working, we'd have been able to set the 560 to clean at scheduled times, perhaps at night, returning to recharge itself afterwards - potentially offering completely autonomous cleaning of one entire floor of a house, with a few "lighthouses" in play. You'd still have to empty the rather small dust tray pretty often, however.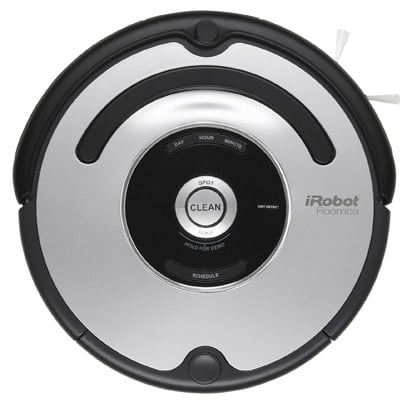 Clean quietly... or there will be... trouble
The Roomba is cleverly programmed, and it's a treat to watch it skimming along next to a skirting board, its little side brush whirling to scoop all the crud from the edge of the room. It does a lot better than you'd think at getting into corners, too.
All in all, it's a nice piece of engineering, though in many ways the simplicity of the controls is rather a disappointment. For a gadget this expensive, you're almost expecting to be offered a Wi-Fi web interface or an icon moving around on a map of your house or something.
You'd be totally out of luck with that last one, as the Roomba doesn't know where it is. It detects walls and so on at short range, and the little IR beacons on the virtual-barrier/lighthouse units and the power dock from across a room, but otherwise it's blind.
Sponsored: Minds Mastering Machines - Call for papers now open