iRobot Roomba 560 robot vacuum cleaner
Clean quietly... or there will be... trouble
It doesn't laugh at much else, unfortunately. Contrary to the iRobot blurb, ordinary rug edges tend to cause snags and fringed ones are a total no-no. Untidy floors with toys, beer cans or similar debris scattered about lead to trouble - either the machine shunts the stuff about or it gets stuck trying to run things over.
Electrical cables or lamp stands can ruin the Roomba's day, and over-fluffy floor surfaces are bad too. A lot of fairly ordinary rooms will need significant reorganising and/or tidying up before the Roomba can cope with them.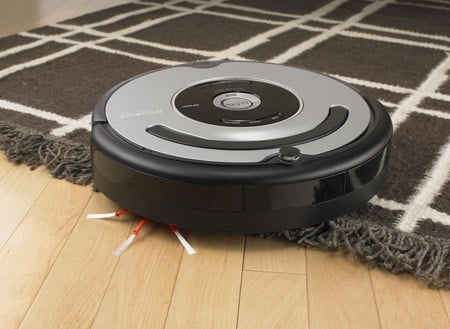 This isn't the droid we're looking for
Provided the room is suitable for the Roomba, however, you can close the door and leave the thing to its own devices. It scans the floor beneath it for dirt as it goes, and decides when it can't usefully clean any more.
With regard to stairs and entrances, some nifty options exist other than just shutting the door. The 560 comes with a pair of virtual-barrier/lighthouse devices. These can operate, as their name implies, as barriers - telling the machine not to cross a given line. Alternatively, in "lighthouse" mode, they serve instead to break up a work area.
Say you have two rooms with a doorway between. If you set up a lighthouse in the doorway, the Roomba does one room completely before moving into the other. Because of the way the machine's routing software works, this saves a lot of time and battery power.
Sponsored: Minds Mastering Machines - Call for papers now open