Third ISS space walk done and dusted
Home stretch for mission STS-124
Mission specialists Michael Fossum and Ronald Garan yesterday completed their third and final spacewalk outside the International Space Station - a six-and-a-half hour jaunt which ended at 20:28 GMT.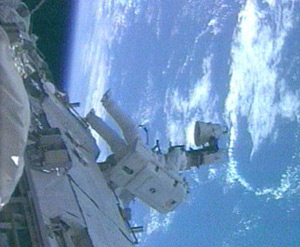 The pair's main task was to replace a 249kg nitrogen tank which pressurises the station's ammonia cooling system. While Garan tackled that (see pic), Fossum busied himself examining one of the paddle-wheel joints which pivot the ISS's solar panels into optimum sun-catching positions and which has become contaminated with metal shavings. Engineers are mulling how best to rectify the problem.
The spacewalkers also resinstalled the video camera they'd previously detatched, duly repaired with a new power supply, removed a window cover from Japan's Kibo lab and unlocked the facility's robotic arm.
Discovery is due to depart the ISS on Wednesday, and the home stretch of the mission today includes manoevering the Kibo robotic arm into its stowed position, checking the arm's brakes and replacing battery charger modules which provide power to US suits during spacewalks and which have "shown slightly increased toxicity levels due to their age". ®
Sponsored: Minds Mastering Machines - Call for papers now open