Toshiba Cell-based GPU trounces quad-core CPU
SpursEngine 1, Intel Core 2 Quad 0
Graphics chip buffs sceptical about Toshiba's attempt to muscle in on the market with its Cell-derived SpursEngine chip may need think again: the chip last week heartily thrashed an Intel 3GHz Core 2 Quad.
The head-to-head was hosted by Corel, TGDaily reports, which had Toshiba's SE1000 and the general-purpose processor both transcoding 1080p H.264 video into a 480p video.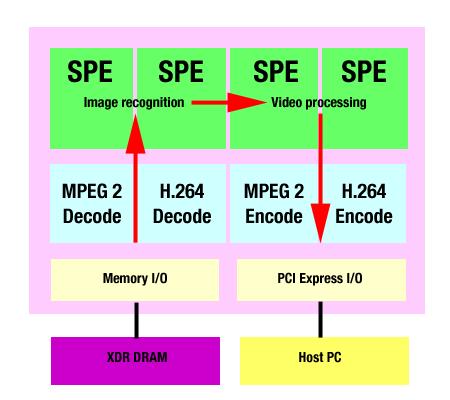 Toshiba's SpursEngine
Corel was using the SpursEngine reference design Toshiba announced back in April when it began releasing samples of the SE1000.
Toshiba has already said it plans to equip its laptops with SE1000 chips by the end of the year.
The SE1000 contains four of Cell's SPE cores and 256KB of memory per core. Toshiba's reference PCI Express x1 card has one SE1000 and 12MB of XDR memory. The GPU is clocked at 1.5GHz - half that of the Core 2 Quad.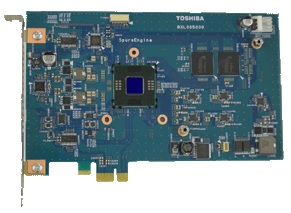 Toshiba's SpursEngine SE1000 reference board
How did they both perform. We don't have specific numbers, but the SE1000 encoded the file in half the time it took the 3GHz quad-core processor. Not bad, we'd say.
It's also not known whether the Core 2 Quad machine had an alternative GPU installed and was using it to accelerate the transcoding app. We suspect not, and it would be interesting to see what difference using an Nvidia or AMD GPU to handle the transcoding would make.
Certainly, that's the kind of application the two chip makers' have in mind for their attempts to leverage their GPUs' parallel processing qualities for non-graphical apps.