What hell hath science wrought lately?
A quick guide to man's abominations
European Space Shuttles
NASA boss Michael Griffin has recently tried to persuade Europe to build its own manned space vessels. This is an extremely dangerous idea.
He claims that during the period between 2010 and 2015, no Western nation will have technology able to carry people into space. That's because the US is retiring its current shuttles at that time and won't be ready with the new Orion program gear for five years.
Apparently the US doesn't want to rely on China or Russia to give their astronauts a ride to work. Not surprising. Americans were never big on public transportation.
How does this affect you? Space debris, my friend. Space debris.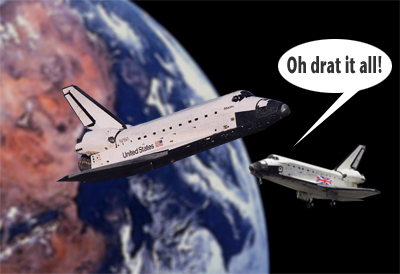 Liberate Tutemet Ex Infernis, over.
Thus far, only one person on record has been hit by man made space debris. In 1997, an Oklahoma woman was smacked on the shoulder by a 10x13cm chunk of fuel tank from a Delta II rocket.
So here we have a chap, who is by all accounts an intelligent man, telling a continent of people who don't even drive on the correct side of the road to navigate space?
The last thing we need is US, Chinese, and Russian pilots surprised by an EU rocket spinning in on a counter-clockwise orbit just to be different. It's going to be a bloodbath up there. And we won't be held responsible when all hell rains down from the skies!
Danger level:

®
Sponsored: Minds Mastering Machines - Call for papers now open