Sanyo camcorders turns to tracking technology
Shy people beware!
If you're the sort that hides whenever a camcorder's brought out, then you'd better hope your friends don't buy Sanyo's latest model, because it features face-tracking technology.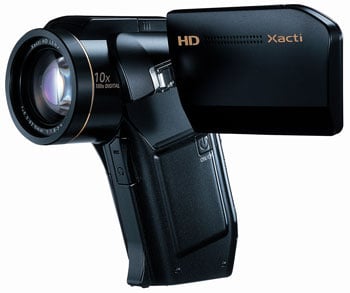 Sanyo's HD1010 can track up to 12 faces
The 1080i Xacti HD1010 camcorder's "Face Chaser" feature is essentially face-detection for both video and stills. The feature can simultaneously monitor up to 12 faces, adjusting the brightness and focus accordingly to ensure that all subjects are crisp and clear.
But for those that do like being the centre of attention, then a slow-motion video mode helps capture every second of, say, the kids running through the finish line on Sports Day. The gadget achieves this by recording video at up to 300 frames per second and then producing "super slow-motion" 60fps video playback.
The camcorder also sports a pistol style grip too, so it might even look like you're holding a speed camera – which is bound to make the kids feel as though they've broken a land speed record. If you want to watch the action back immediately, then the 2.7in widescreen display should come in handy too.
Video content is recorded into MPEG 4 format and four-megapixel still snaps can be taken at up to seven shots per second. Content is stored on SD memory cards of up to 8GB – although one isn't included. An HDMI port is built in for HD TV connectivity.
Sanyo's Xacti HD1010 camcorder will be available in the US in July for $800 (£400/€515). A UK price or release date hasn't been captured yet.
COMMENTS
These are good cams
I've used three different types of these Sanyo cams and they work very well. Quite why you would buy one of those boxy type camcorders I dont know. They sit in your jacket or jeans pocket well too.
I have managed to persuade a few of my mates to buy these rather than more expensive HD cams. Once I asked them "well would you care to watch anyones home movies even if they were HD?" Even your baby wont thank you for capturing it puking on its bib in HD in 20 years time.
Short candid clips is all thats needed for most of us.
Not the most exciting bit of kit
Ok, so for just a tad more you can move up to a 120GB Sony HDR-SR12 or a Canon HF100. I'd love to see you do a shootout with those against this camera.
Oh, and then there's the Red Scarlet due out in early 2009. That's the one I'm saving my wad for. It's a big wad though at close to $3,000 USD but if you check out the specs, the Scarlet should do to the camcorder market what the iPod did for the MP3 player market.... that is, reinvent the blessed thing.
Look at the ZOOM!
A 10x optical zoom is the same strength as binoculars. My Panasonic TZ3 still camera has this feature although it uses part of the zoom range to take wide shots.
This looks like a nice bit of kit. However you will probably get tazered for using it just because it's a video camera, let alone that it looks a bit like a gun.
Pistol grip...
"so it might even look like you're holding a speed camera"
Of course, it might even look like you're holding a pistol. Since this looks like a pistol much more than a chair leg looks like a shotgun, I'd be careful in case some busybody on a bus feels like calling SO19.