Blighty joins killer robot club with Afghan strike
RAF's sole kill-bot gets in on the pressbutton action
Britain has joined the USA in achievement of a modern-day tech milestone. Both countries have now used killer robots to attack human beings on the battlefield.
The revelation comes in an exclusive report by Flight magazine, which says that the Royal Air Force has confirmed that Blighty's sole in-service "Reaper" flying hunter-killer system has now mown down its first fleshies in Afghanistan.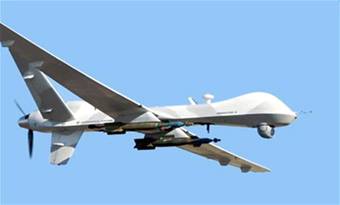 Reaper. For the armchair warrior.
"The RAF Reaper has now been authorised to carry munitions," a service source told Flight. "We cannot comment on specific operations, but can confirm that an RAF Reaper used its weapon system."
The UK initially ordered three Reapers from US maker General Atomics. Two have been delivered, but one of these recently crashed and was destroyed by bombing to prevent the wreckage falling into enemy hands. The third Brit kill-droid is to be delivered in January, and a replacement for the wreck will follow, but reports have it that plans for a larger fleet have hit budget problems.
The large, five-ton Reaper is also known as Predator-B; it is effectively a bigger version of the original Predator. All current versions are handled by fully-qualified pilots in ground control stations. The stick-jockeys in charge of takeoff and landing are physically present near the runways in theatre, but the robot killers are handled in action from facilities near Las vegas.
The next generation of Predator - the so-called "Sky Warrior", designed to the requirements of the US Army rather than the Air Force - will largely dispense with trained pilots. It will take off and land automatically, and will be controlled on the job by specialist non-aviator warrant personnel rather than commissioned-officer pilots. US defence contractors are working on control software which could allow a single human overseer to command small fleets of robocraft, which would handle complex tasks - such as shadowing vehicles or even individual people - without human input.
Meanwhile the US Reaper fleet made its first human kills in Afghanistan last October. The RAF's kill-robots were initially unarmed, but their tooling-up has been predicted for a while now. A US Reaper can carry up to 14 Hellfire laser-guided missiles, each capable of destroying a tank, or replace some of these with even heavier-duty 500lb smartbombs.
British Reapers, like those of the US, are heavily dependent on satellite bandwidth to operate. The third of Blighty's new generation of military comms sats was supposed to launch last Friday, but technical faults on the rocket have resulted in an indefinite delay.
British military satellites are called "Skynet", though this has been the case since before the Terminator movies came out. The US decision to designate the Reaper a flying "hunter killer", like the flying-HK aerial murder mechanoids which hunted human resistance fighters like rats in the movies' dystopian future, is of more recent origin.
Read the Flight scoop here. ®
Sponsored: Minds Mastering Machines - Call for papers now open