T5 Transformers t-shirt bust: Shock snap
Armed apparel supression team tackles terrorist threat
The shock news yesterday that if you're travelling via Heathrow's splendid Terminal 5 it's probably best to leave the Transformers t-shirt at home prompted widespread condemnation of the UK's terror-busting airport security protocols.
In the case of Brad Jayakody, he wisely opted to swap the offending shirt for something less menacing, and thereby avoided a possible cuffing.
Here, however, is what happens if you attempt to argue the toss: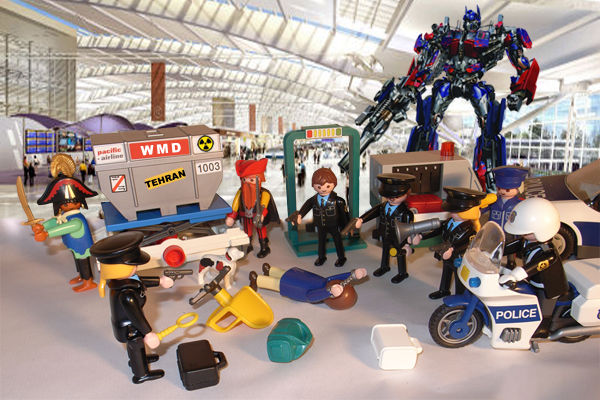 As you can see, T5 security has moved with lightning speed to neutralise the possible threat, deploying armed apparel suppression units, dog teams and back-up vehicles manned by hardened police vets of the Met's elite "Battling Streatham Clotheshorse" unit.
Sadly, in their enthusiasm to keep cartoon weapons firmly grounded, officers have failed to notice two members of al-Qaeda, cunningly disguised as pirates, who are about to load a container of weapons-grade plutonium onto a flight to Iran.
They're also blissfully unaware that the real Optimus Prime, having just been told by British Airways that his luggage has gone awol, has decided to scrap his planned weekend break in the Seychelles and vent his anger at T5's state-of-the-art baggage handling system by reducing the whole of Heathrow to smouldering rubble. ®
Sponsored: RAID: End of an era?