MSI takes aim at Asus' Eee
The latest minature PC
Computex MSI has officially launched its Wind notebook, the latest attempt to steal a slice of the Small, Cheap Computer™ craze ignited by Asus' Eee PC series.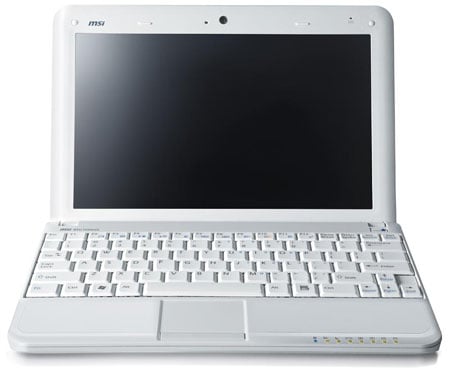 MSI's 10in Wind: breath of fresh air?
The Wind's screen measures 10in and has a 1024 x 600 resolution. MSI unveiled the machine at the Computex show, which is currently taking place in Taipei, but the manufacturer didn't mention an 8.9in version of the Wind NB that it talked about earlier this month.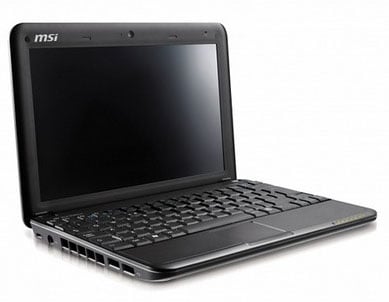 A 1.6GHz Atom CPU, Bluetooth and integrated 1.3-megapixel camera are some of the Wind's highlights
The miniature PC's based on Intel's 1.6GHz Atom processor and is equipped with an 80GB hard drive and 1GB of memory that's expandable up to 2GB. MSI hasn't designed the Wind as an Alienware-esque gaming machine, so the relatively small amount of memory built-in and a tiny hard drive shouldn't be an issue for most users. Graphics come courtesy of Intel's 945GMS integrated chipset.
MSI's Wind stands up well on the connectivity side, with support for 802.11b/g Wi-Fi and Bluetooth 2.0. Three USB ports are built into the machine, in addition to a four-in-one memory card reader. A 1.3-megapixel webcam built into the machine's inner lid is a bonus.
If you're blown away by the Wind, then it'll be available through online retailer Expansys later this month for roughly £345 (€365). You can choose from either a Windows XP version or one running Linux, but the latter doesn't include Bluetooth connectivity.
Related Sub-notebook Reviews
Vye mini-v S37B
Asus Eee PC 900
Apple MacBook Air
Toshiba Portégé R500
Maxdata Belinea s.book 1
Asus Eee PC 701


COMMENTS
How much?
Looks like just another UMPC, nothing outstanding, and no where near the cheap/value end of the market represented by the ASUS 701 or the new Acer One.
However since when has £345 = €365 ?!?
Linux model is cheaper.
The Linux model is only 317.95 but with no Bluetooth. I wonder if BT is present, and there is just no Linux driver for it ?
Heres a link to all the available models: http://www.expansys.com/c.aspx?t=cat&f=1468