Tech luminaries honor database god Jim Gray
A tribute, not a memorial
The tribute detailed Gray's entire career from his days as the first computer science PhD at Berkeley, to his stints at IBM, Tandem, and DEC, to his most recent work at Microsoft's Bay Area research lab. And each speaker - including Microsoft Research founder Rick Rachid; DEC/Microsoft legend C. Gordon Bell; and Ingres founder Mike Stonebraker - painted the database pioneer as one of the industry's great minds. But in a constant echo of those words from Vaskevitch, praise for Gray the computer scientist was inevitably dwarfed by praise for Gray the man.
"Over the years, I would frequently talk about Microsoft Research and about Jim and about our research lab in the Bay Area, and I always said the same thing," Rachid told an audience of several hundred at Berkeley's Zellerbach Hall. "I would say 'Jim is the kind of person you'd want your child to be like.'
"We all want to see our children grow up to accomplish something. We want to see them have an impact on the world. But we also want to see the exemplify human values. We want to see them be kind and generous and thoughtful of others.
"Jim was incredibly smart, incredibly accomplished. But at the same time, he was thoughtful. He was an unassuming person. He was incredibly generous. I think it says something about Jim that in almost all the conversations I remember having with him, he was talking about someone else. He was talking about someone else's accomplishments and someone else's problems and what we could do to solve them."
To be sure, it's no small feat that the man overshadows the researcher. In the words of Bruce Lindsay - who worked alongside Gray on the "System R" project at IBM Research - Gray's transaction processing work is "the key to life as we know it." And this was only a slight exaggeration.
Gray's famous criteria for online transactions - atomicity, consistency, isolation, and durability (ACID) - underpin everything from online banking, booking, and billing to the so-called war on terror. "The No-Fly List," Lindsay said. "Brought to you by Jim Gray." Those fundamental concepts ensure that modern databases play well with one another - and typically recover from hardware failure.
"Jim's major contribution was to performance and efficiency," Mike Stonebraker explained. "He figured out fast mechanisms to guarantee [reliable databases]." In 1976, Gray co-wrote a paper with other IBMers that first defined these ubiquitous database algorithms, and in 1992, together with German researcher Andreas Reuter, he published the field's 1,124-page magnum opus: "Transaction Processing: Concepts and Techniques.
And that was just a start. Jim Gray joined Microsoft Research in 1995 - after Rachid opened that Bay Area outpost just for him - and it was there he helped launch TerraServer, a massive online repository of aerial and satellite imagery. Once again, he was ahead of the curve. TerraServer would eventually give rise to Microsoft Virtual Earth.
"I always think into the future, but no matter how Jim was always one step ahead of me," said Vaskevitch. "We wanted to build a really, really, really big database and project it out onto the web, and he decided to build it around satellite imagery that would let you see the earth's entire surface.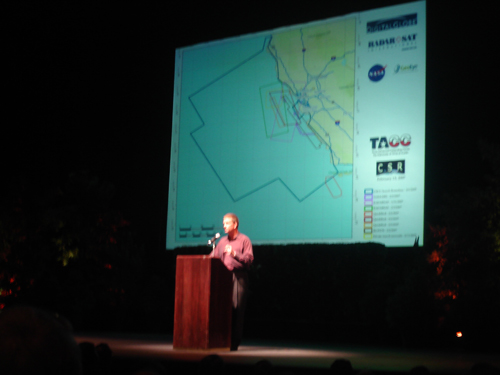 Mike Olson
"At the time, I thought this was - I wouldn't say crazy, but I would say not all that relevant. Of course, today, everyone is used to the fact that you can sit down - even with a cell phone - and look down on a picture of your own house."
Such technology would also drive the search for Jim Gray and Tenacious. On the Thursday following his Sunday disappearance, the Coast Guard finally called off its boats and planes, which had combed over 132,000-square-miles of ocean. But the hunt was continued by literally thousands of friends and admirers - volunteers who who spent the next three weeks poring over satellite images of the waters off San Francisco Bay.
But as ex-Oracle VP Mike Olson explained at Saturday's tribute, this effort exceeded the bounds of TerraServer, Virtual Earth, and Google Earth, which rely so heavily on older images. "Satellite imagery is hard to get and hard to use," said Olson, who led the amateur search. "But Jim's high-powered group of friends included people who could re-target satellites, who could move them into new orbits and have them look down on new areas."
The search wasn't successful. But it too was a tribute to Jim Gray, painting much the same picture that Vaskevitch's paints. "Those three weeks were among the most intense and meaningful of my personal and professional life," Olson said. "I didn't like it. But I wouldn't have missed it for the world."
Bootnote
Video of the Jim Gray Tribute will soon be available here. ®
Sponsored: Minds Mastering Machines - Call for papers now open