VIA revamps NanoBook sub-notebook platform
Reborn as OpenBook
VIA has revised its NanoBook Small, Cheap Computer reference design to make it a little more like Asus' Eee PC. It also comes with a new name: OpenBook.
The chipmaker had to change the name, of course. Having just launched its 'Isiah' 64-bit CPU as the Nano, folk would have assumed the sub-notebook design featured the new processor had the name not been tweaked. As it stands, the OpenBook continues to use VIA's C7-M ULV (Ultra-Low Voltage) CPU.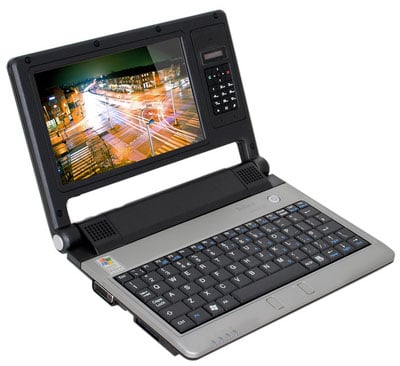 VIA's Nanobook: out with the old...
The 1.6GHz processor sits on an 800MHz frontside bus connected to a VIA VX800 chipset - an upgrade on the Nanobook's VX700 chipset. VIA anticipates licensees throwing in up to 2GB of DDR memory and at least 80GB of hard drive storage.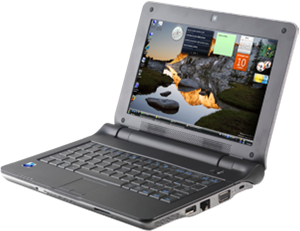 ...and in with the new: VIA's OpenBook
The design calls for an 8.9in, 1024 x 600 display, an improvement on the NanoBook design's 7in, 800 x 480 screen. The graphics come courtesy of the chipset's integrated VIA Chrome 9, a DirectX 9-compatible GPU that can grab up to 256MB of main memory for its video buffer.
The OpenBook spec includes Readltek HD audio codec and Broadcom Gigabit Ethernet chippery with 802.11b/g Wi-Fi and Bluetooth as standard. WiMax, HSDPA and EvDO mobile broadband technologies are optional internal add-ins.
Like the Eee PC, the OpenBook has three USB 2.0 ports, 3.5mm audio I/O sockets, a VGA connector and a memory card reader - a four-in-one job in this instance. There's a two-megapixel webcam on board too.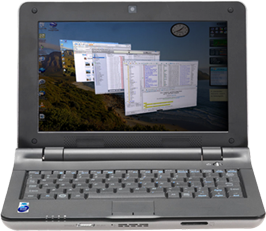 Like the Eee PC - only curvier
The whole lot weighs under a kilo, and measures 24 x 17.5 x up to 3.6cm.
VIA said the battery is a four-cell, "2600mA" job, which isn't impressive. In our tests, a NanoBook derivative with a 1.2GHz C7-M ULV proved to have rather less runtime than an Eee PC 701 with a 630MHz Celeron M processors.
Related Sub-notebook Reviews
Vye mini-v S37B
Asus Eee PC 900
Apple MacBook Air
Toshiba Portégé R500
Maxdata Belinea s.book 1
Asus Eee PC 701


COMMENTS
four-cell, "2600mA"
That's probably equivalent to the Asus 5200mAh battery, which is two sets of 2600mAh cells in series.
Of course none of this confusion would arise if people actually expressed these things in a unit of energy - watt-hours (Wh).
@At least
I've never seen a kitchen drinking wine. Would be novel, but not sure it would make me buy a laptop particularly...
Mine's the one with the red-wine stains
At least
They got rid of that stupid plug in handset thing besides the screen. That was a really stupid idea in the first place, who in the design department though that, that was a cool look?
Now all they need is a suitable model to demonstrate it's use in an everyday setting, say a kitchen drinking wine, or possibly another room in the house...
Better screen, but...
...WTF is up with the battery? All these sub-notebooks seems to have one irritating thing wrong with them.