Times hack has an attack of the Web 0.2s
Punts book via Yahoo pipe onto Google Maps
It's come to our attention that Times hack Michael Moran has a book out - the snappily entitled Sod Abroad which explains "why you'd be mad to leave the comfort of your own home".
We were alerted to this new tome by a pretty shameless email from Mr Moran asking us to punt his cautionary travel tales through El Reg, and in which he at no stage offered cash/beer/expensive electrical goods as payment for the favour.
We were, then, going to ignore the request until he decided to catch our eye by launching an "user-generated" map down at his blog which offered the hoi polloi the chance to recount their holiday horror stories by filling in a web form which "fed a spreadsheet in Google Docs - through a Yahoo pipe - onto a Google map".
Ahem. Here's one of the more concise offerings: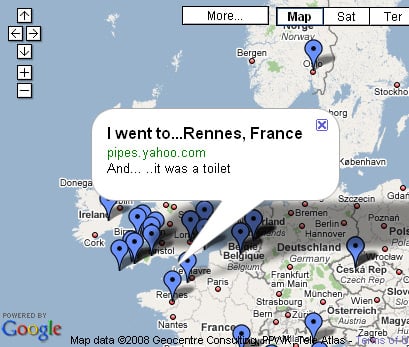 Suffice it to say, there are rather more insightful reviews of international hellholes on offer, and some real corkers, like this sorry tale of one night in Corfu: "In the early 90s I was on holiday in Curfu [sic], I went out one night got so horrifically drunk on cheap cocktails and beer, I woke up in the morning feeling really unwell in a strange grubby room alone, with a sore arm and bruised face and body, and an empty wallet, there was a used syringe on the floor, apparently I had been mugged, had my wallet emptied of a couple of hundred pounds and in return they filled me with heroine [sic]. I've never wanted to try drugs and I'm crap scared of needles so I certainly didn't volunteer to do it willingly."
Cracking stuff. With material like that on offer, we reckon this Web 0.2 thing might really catch on. ®
Sponsored: Minds Mastering Machines - Call for papers now open