iRiver E100 MP3 player
Low price, low quality?
This may not be much of an issue when zipping through a three-minute pop track, but it is a major pain in the backside if you want to skip smoothly through something longer as we did with Górecki's O Domino Nostra, which runs to over 21m 30s.
Having to go into the Settings menu every time you want to change the scan speed hardly helps matters, either.
On-the-go playlists are something iRiver has seen fit not to bless the E100 with, so you have to set them up via the supplied iRiver Plus 3 media management software. You will also need to make sure your music files have ID3 v2.3 or later tags or songs and albums will end up in the 'unknown' zone.
iRiver quotes 17 hours of playback per charge. Leaving it on repeat play overnight, we got 15-and-a-half hours out of it before it died. Charge is officially conveyed only through a USB cable, but in the spirit of enquiry and adventure we stuck an HTC USB phone charger into it and are happy to report the E100 charged up nicely without exploding.
The E100 is available in 2, 4 and 8GB versions, and in a range of pretty horrific colours including a Zune-like brown.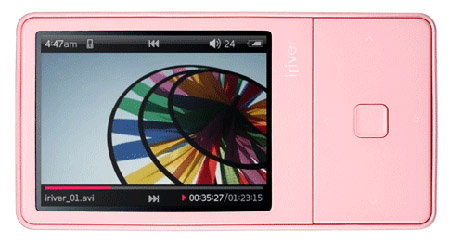 The E100 is available in a range of quite hideous colours
On a closing note, the word out of Korea is that iRiver will release a revamped E100 later in the summer with an aluminium case and upgraded screen, but minus the built in speakers - which apparently makes it a little slimmer. No news on how much the E100 2.0 will cost, or if the memory integration issues will be addressed, but it's probably wise to wait and see until you part with your hard earned on the current incarnation. The speed with which the E100 Mk. II has surfaced suggests iRiver know they have got the Mk. 1 wrong in a number of ways.
Verdict
Not a bad box of tricks performance wise, and blessed with better-than-average file support and Micro SD storage expansion. But you really have to not mind your media being presented to you in two separate chunks. It's bad enough if you're using a 2 or 4 GB memory card, but imagine using a 16GB one? You'd have two-thirds of the player's musical content only accessible through a basic Directory menu. No thanks.

iRiver E100 MP3 player
The E100 does the basics well, but contains too many irritating idiosyncracies.
Price:
£60 (2GB) / £80/$110 (4GB) / £100/$160 (8GB) RRP