iRiver E100 MP3 player
Low price, low quality?
Audio quality is an area in which you wouldn't expect the E100 to disappoint, and it doesn't, producing a sound that is clear, punchy, well balanced and with plenty of volume. The main bells and whistles sound modifier is SRS' WOW HD with TruBass. Silly names aside, it's one of the less obviously intrusive sound modification systems we can have come across on an MP3 player and opens out the sound without making things sound hopelessly artificial.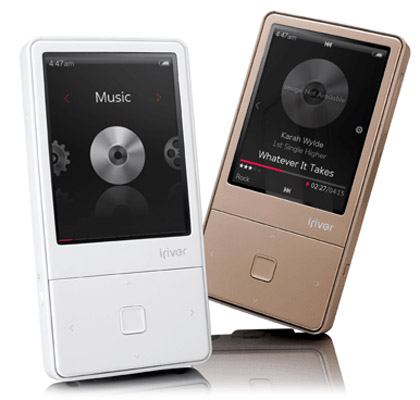 External and internal memories not integrated
Being able to make tracks fade in and out when started or stopped is a nice, if ultimately peripheral, bit of functionality.
The E100's 2.4in, 320 x 240 pixel, 262,000-colour screen is nothing out of the ordinary being rather susceptible to changes in viewing angle and having rather poor contrast. Dark colours could also look darker and less pixelated. Even so, a 15f/s AVI file of The Incredibles proved fairly watchable as did a one-hour DVD rip of an episode of Band of Brothers that we encoded to WMV at 30f/s using the bundled iRiver Movie Converter.
Now for an important announcement. For reasons best known to iRiver, the E100 doesn't integrate media stored on the Micro SD card with the contents of its internal memory. So, assuming you have an memory card that matches the memory capacity of your player you will only be able to access half the files via the main Artist, Albums and Genres menus, the other half will have to be accessed via the 'Dir List' external memory menu.
This sucks, quite frankly, and rather knocks for six one of the main reasons for buying an E100 in the first place.
There may be a good reason for this glaring omission, but it sure isn't anything to do with the time taken for the player to sort out content once loaded. The E100 is pretty slow on this front taking a good half-a-dozen seconds to get its act together and rebuild its contents database following the addition of files.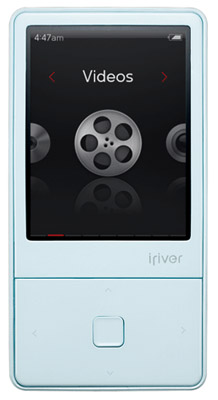 The E100's audio quality does not disappoint
Another niggle is the fast forward and rewind facility, which is annoyingly jerky irrespective of speed, leaping ahead by seemingly random numbers of seconds. When we upgraded our E100's firmware from version 1.03 to 1.06 we did see an improvement in smoothness in the x2 and x4 scan speeds, but the x8, x16 and x32 speed settings remained erratic.