Controlling the E100 is straightforward enough. All settings bar volume are accessed using the four-way navpad and central 'OK' button, situated below the screen. Everything is easy to find with the exception of the sound settings menu: you access that by holding down the right side of the navpad, but you have to read to manual very, very carefully to discover this. Or discover it by accident.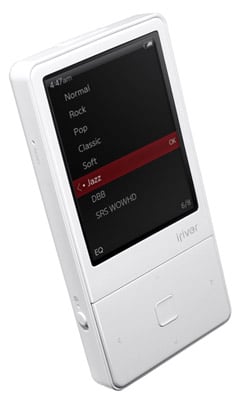 Lacks tactile satisfaction
While the navpad controls work just fine, the 'click' action at the four compass points feels and sounds cheap, and is wholly devoid of anything that could be described as tactile satisfaction.
The menu arrangement is generally fine, and a handy little arrow or icon appears on screen to let you what you can do by pushing on any of the navpad's four sides in any given view. One feature did irk us though: when you click on Artist, you get all the tracks listed - admittedly in the correct order - album by album, but without any indication of where one album ends and another begins. This state of affairs is aggravated by the fact that menu navigation is just a little on the sluggish side, making scrolling up and down long lists of songs a rather tedious operation.
By way of example, scrolling through the entire Simon and Garfunkel discography took over ten seconds. Not a vast amount of time, we grant you, but then again S&G only turned out five relatively short studio albums in their recording career. Far better for all concerned if clicking on S&G took you to the five album titles, iPod fashion.
Another aspect of day-to-day navigation that aroused our curiosity was that rewind and fast forward are activated by pressing on the top and bottom edge of the navpad rather than the left and right sides as common sense would perhaps dictate.
COMMENTS
MP3 player speakers?
Will someone please pass a law banning speakers in MP3 players?
Seriously now.
I have an old H320 running Rockbox and it's a lovely bit of kit, shame this doesn't seem to share the solid build of that older model from all accounts - I'd much rather another iRiver should this one fail, than a Zen - had one of those, and found the custom software and menu system to be utterly, utterly hateful.
The iRiver knocks it for socks for sound quality too when running Rockbox too [in terms of customisation, certainly].
Oh well, no reason to replace the old brick *just* yet...
comparison to Creative Zen
Hopefully the 2.0 will fix a load of the usability issues it has. They've pitched this at the same price point as the Creative Zen but not matched it well on features. iRiver usually get by on excellent design but in the budget market like this it seems odd to not at least match what seems like thier direct competitor.