iRiver E100 MP3 player
Low price, low quality?
Review In recent years, iRiver has established a reputation for knocking out good media players aimed at the slightly more discerning audience. With the E100 it's trying to move a little more into the mass market.
The all-plastic casing of the E100 is a clear indication that what we have here is a device built down to a price. Having said that, the plastic is of a high quality and it doesn't squeak, creak or bend no matter how you abuse it. The player weighs an unremarkable 59g and measures up an equally unremarkable 93 x 48 x 11mm in size.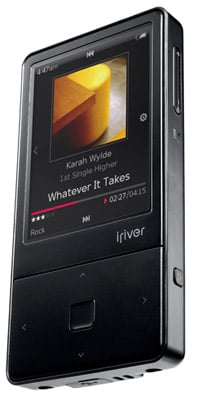 iRiver's E100: built down to a price?
External controls are limited to a volume rocker that falls easily to hand on the right side of the unit; an on/off button below it; and a control-lock slider on the opposite side.
The MicroSD card slot at the top of the player and the mini USB slot at the bottom both have plastic covers that unclip easily enough with even the shortest of fingernails. The base is also home to a 3.5mm headphones jack and a similarly-sized line-in socket. The bundled white earphones look a bit like those supplied with an iPod, and are of a similar quality.
Something you will need to be careful of is the Micro SD slot cover. It doesn't sit quite flush with the surround and if you push it down the memory card has a nasty habit of popping up out of its housing.
The E100's technical spec is typically iRiver-thorough. File support extends to MP3, ASF, Ogg, Flac and WMA on the audio front; and WMV and Xvid AVI on the video. Hardware-wise you get two small built-in speakers, an FM radio - which needs the earphones cord for an aerial - and a record facility that will work via either the internal microphone or via the line-in jack. Recordings are stored as WMA files at either 192, 128 or 96Kb/s. The E100 also supports Jpeg, BMP, PNG and GIF picture files and has a TXT file viewer.
COMMENTS
MP3 player speakers?
Will someone please pass a law banning speakers in MP3 players?
Seriously now.
I have an old H320 running Rockbox and it's a lovely bit of kit, shame this doesn't seem to share the solid build of that older model from all accounts - I'd much rather another iRiver should this one fail, than a Zen - had one of those, and found the custom software and menu system to be utterly, utterly hateful.
The iRiver knocks it for socks for sound quality too when running Rockbox too [in terms of customisation, certainly].
Oh well, no reason to replace the old brick *just* yet...
comparison to Creative Zen
Hopefully the 2.0 will fix a load of the usability issues it has. They've pitched this at the same price point as the Creative Zen but not matched it well on features. iRiver usually get by on excellent design but in the budget market like this it seems odd to not at least match what seems like thier direct competitor.