Nokia Supernova handsets flare up, vanish
Star appeal?
Nokia could be chasing the ladies - or astronomers; or lady astronomers - with its latest out-of-this-world handsets, details of which have been spotted on the phone giant's Polish website.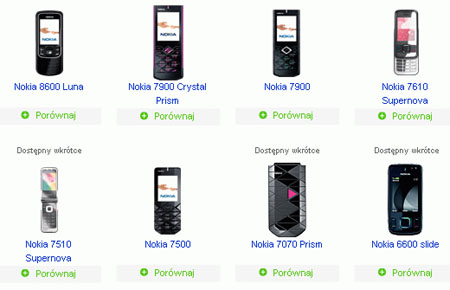 Nokia's Supernova 7610 (top right) and 7510 (bottom left): brief blaze on the Nokia website
Both dubbed Supernova, the 7510 is a slimline clamshell handset and the 7610 a slider device. Both are relatively low spec, suggesting that each has been designed to look pretty and provide only basic functionality.
The 7510 and 7610 are both handbag sized, measuring 92 x 46 x 17mm and 98 x 48 x 15mm respectively. Each provides quad-band GSM connectivity, but there's no mention of HSDPA support on either device.
Nokia looks set to position the 7610 as the superior of the two devices, equipping the phone with a 3.2-megapixel camera and 8x digital zoom. Whereas the 7510 comes with a lesser two-megapixel camera and a 4x digital zoom. Both support Micro SD storage and Bluetooth connectivity.
The 7510 does support Nokia's Xpress on covers though, allowing the phone's looks to be changed according to your outfit. Women opting for the 7610 will have to make do with the one of four body colours they can choose between when buying the handset.
Nokia hasn't given any pricing or availability details for the UK yet, so Polish women may be the first to get hold of the Supernova 7510 and 7610.
Sponsored: Minds Mastering Machines - Call for papers now open