Samsung Soul SGH-U900
Immortal inner spirit, on sale from Seoul
The loudspeaker is poor and tinny, but the earphones produce acceptable rather than impressive sound that's light on bass. You could try out a stereo Bluetooth pair as a wireless alternative if you want to improve sound without having to source a Samsung 3.5mm adapter. The music player interface is familiar stuff; song categories are of the usual type – artists, genres, albums, composers, podcasts, etc. – and the touchpad turns into a music control panel.
Similarly, the FM radio works effectively (with headphones plugged in), looks fine on the display, but isn't enhanced by having touch rather than navi-pad operation.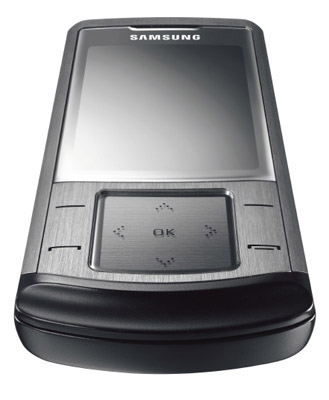 The casing provides a higher quality feel than other Ultra phones
Some 100MB of internal memory can be used for storing tunes and other content, though a side-mounted MicroSD card slot allows you expand this with cards up to 8GB in capacity. The phone can sync with Windows Media Player 11 on a PC, or you can use in-box Samsung PC Suite Multimedia Manager software and USB cable to load up tracks. Mass storage drag and dropping is another alternative, particularly if you're a Mac user – 'cause there's no software sync support for Apple.
High-speed HSDPA 3G data connectivity means you can download tracks at a fast lick too – up to 7.2Mb/s if supported by your network operator. Anyone hoping for Wi-Fi connectivity will be disappointed though – this mobile keeps the high-speed connectivity strictly mobile network based. Video clips can be downloaded or streamed too, with decent quality playback on the phone's screen in landscape mode.
Mobile broadband connectivity also gives a boost to browsing speeds. The phone has a NetFront v3.4 browser onboard that works reasonably swiftly at resolving pages – there are 'Smart-fit' mobile optimised page view and full page 'Desktop' view options, plus zoom controls to help navigate pages.
Battery life is quoted by Samsung at up to 4 hours talktime, or in standby up to 400 hours on standard GSM/GPRS networks or 250 hours on 3G. With the touchpad working in conjunction with a larger display, power consumption is potentially an issue. With moderate use, we had to charge up every 2 to 3 days, although more music player usage will increase charging frequency. It's not the best 3G phone for battery life, but it didn't appear to guzzle juice either.
Verdict
The Magical Touch touchpad will obviously draw attention, but while it is useful to have changing icons as you switch functions, the control system basics haven't changed that radically from a conventional navigation pad. It doesn't revolutionise the way you do stuff, it's just some functions are better illustrated. While that might appeal to some, it's not a must-have in our book. Touch sensitivity can also be a love-it-or-hate-it experience too, so we'd advise having a go before you buy. Pitched as a flagship phone, some may expect this premium mobile to pack in Wi-Fi, smartphone functionality or GPS satellite navigation. It doesn't. But despite a few issues, it's decently equipped for a mid-tier handset.
Sponsored: Minds Mastering Machines - Call for papers now open

Samsung Soul SGH-U900
Sure, touch control from Samsung's flagship handset – but the Soul's a touch short on some hard-hitting, high-end features
Price:
Contract: from free - £160, pre-pay: n/a, handset only: £330 RRP