Samsung Soul SGH-U900
Immortal inner spirit, on sale from Seoul
A wide selection of Samsung cameraphone settings adjustment options and effects are included, giving you plenty of tweakery to optimise your shots if you want more than quick-fire snaps. There's an LED flash next to the lens, which does offer some basic illumination, but not with the strength or effectiveness of Xenon flashes we've seen on other mobiles.
There's a dedicated camera button on the side of the phone, and the screen/viewfinder immediately switches to landscape when pressed. Holding the fully open phone like this doesn't feel right for a high-end cameraphone, although we appreciate that the design helps protect the lens without widening the girth. The zoom – on the opposite side to the capture button, on the bottom – is where you'd naturally grip the phone with your thumb, but once you realise this you can easily get by without accidentally pressing it.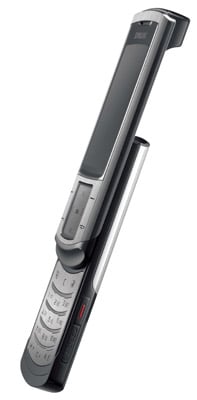 It's not the best cameraphone we've seen, but it can take some decent pics
The Magical Touch pad plays well with the camera; four icons appear for camera setting options – macro mode, timer, exposure adjustment, and flash on/off. On other phones, these might be shortcuts you could use by tapping the numberpad or D-pad, but the touchpad icons do make it simpler and quicker than most.
The majority of the detailed settings options are pulled up onscreen by softkey and touchpad combinations, much like a conventional cameraphone with its navigation pad.
The camera itself is capable of finely detailed shots, and colour rendition and exposure metering is generally of a high standard. Lower light conditions don't suit it, though, as the limited flash lacks punch for longer shots and can also overwhelm close subjects. Without the flash, subdued lighting introduces more picture noise and reduces picture quality.
Nevertheless, while it's not up there with the very best photo-centric 5-megapixel cameraphones, it still has the capacity for capturing some very decent quality images. Video capture quality isn't so good, however. It takes passable mobile footage, at QVGA quality, but is fairly average looking when replayed on a PC.
Unfortunately, the decision to supply average quality earphones with the Soul, and to provide no standard 3.5mm jack option for better quality headphones, considerably limits the phone's ear-pleasing potential. It's a real shame.
Sponsored: Minds Mastering Machines - Call for papers now open