Pong, the dining table
1970's furniture
If you've reached that age where Saturday nights are taken up with dinner parties, don't you sometimes wish you could be playing videogames instead? Well, thanks to one inventor, you can now do both.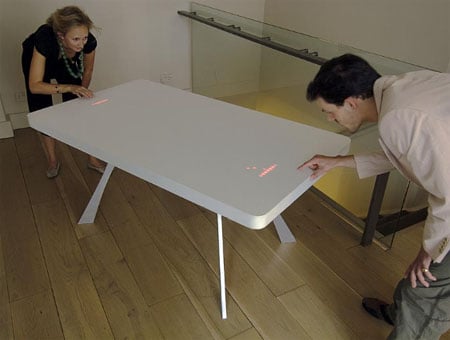 The Pong table isn't for eating off, or is it?
Mortiz Waldemeyer has designed a white dining table that doubles-up as an interactive Pong playing surface. Apparently, the table has 2400 integrated LEDs and trackpads at either end, allowing gamers to bounce the 'ball' back and forth.
Of course, playing the game whilst the table's laden with delicious food and glasses of wine probably isn't a good idea.
The table is only a prototype at the moment and no plans to develop it commercially have been mentioned. So, for now, you'll just have to make do with discreetly watching football on a handheld TV underneath the table.
COMMENTS
re: level 3
'Breakout' stylee....
Moving forward, multiple players on each side of the table....
level 3
what would be really cool would be incorporating a pressure sensitive layer, so you could bounce the ball off the plates on the table....
Level Two
Surely playing it with food on the table would be a more advanced level of the game? After all, not being able to see the 'ball' coming towards you has got to make it more of a challenge. Hey! What about blindfold tennis?