Samsung SGH-F490 cameraphone
An altogether more run of the mill device
To be honest there wasn't much to choose between the end results, the pictures taken on the K850i being perhaps just a little crisper and having slightly richer colours. On the hardware side of things though the time taken to reset between shots was significantly slower on the 490 and it has a camera hardware button that doesn't actually launch the camera application. You need to do that via the touchscreen, which is an altogether less elegant solution than the two-key set up on the side of the K850i.
Sample shots
Click for full-size images

The Samsung F490 image is on the left and the Sony Ericsson K850i is on the right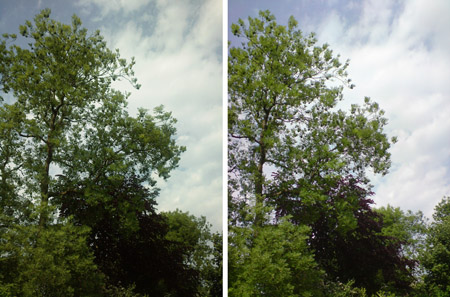 The pictures taken on the K850i are perhaps just a little crisper

In good light we found the F490 to be a decent little snapper
When it comes to day to day "phone stuff" the F490 does a good job. Signal reception was good across the board, calls sounded clear and the speaker phone sounded great. Battery life was pretty impressive too. Samsung quote 4.5 hours of talk time and 350 of standby. In a 3G area and with Bluetooth left on we got two long days of heavy use out of a full charge and still had juice left.
The bundled software package is comprehensive and pretty user-friendly - the slow data transfer times to the on-board memory and restricted video transformating resolutions notwithstanding. Synchronising with Outlook was straightforward, as was connecting to the internet when using the phone as a modem. When we synchronised our contacts to the F700 we noticed that certain data fields seemed to vanish; either we were just unlucky or Samsung have tweaked something, because we didn't notice the same problem with the F490.
Verdict
We're beginning to thing that Samsung is knocking out new handset designs so fast it is losing the knack of landing a killer punch with any one of them. The F490 is a nice phone to own and use, bleeping noises notwithstanding, and comes with a decent spec and a not half bad camera; but had Samsung bothered to equip it with video playback that actually made full use of the rather fine 3.2in screen it would have made it much, much more desirable. With 16GB MicroSD cards now knocking about - at an admittedly eye-watering 90 odd quid - the 490 could have been a superb amalgam of mobile phone and PMP. As it is, it is simply a decent phone and we reckon that is a missed opportunity.
Sponsored: Minds Mastering Machines - Call for papers now open

Samsung SGH-F490 cameraphone
Nice looking, easy enough to use and with a decent 5 megapixel camera, but the excellent screen is criminally underutilised
Price:
Contract: free, PAYG: n/a RRP