Samsung SGH-F490 cameraphone
An altogether more run of the mill device
If the F490 played video at full screen and came with more comprehensive video file support, like the LG Viewty, all you would have to do is stuff in a large capacity microSD and bingo, instant phone-PMP. Incidentally, 240 x 320 is the maximum resolution you can transform video to using the bundled Media Manager, which seems like a slight case of someone not paying attention at Samsung.
Media transfer to the 130MB on board memory can only be made be via Samsung's bundled PC Studio 3 software. It works, but by crikey it's slow. Nine 160kb/s MP3 tracks, about 45MB in total, took over 20 minutes to transfer across. With an SD card in place you can drag and drop using MS Explorer, which works fine and your hair won't turn grey while you are doing it.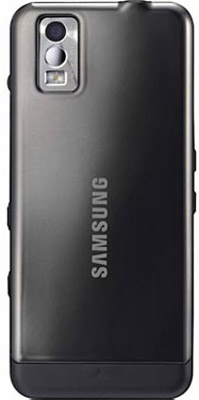 The flash is still an LED which is about much use as a chocolate teapot
The MicroSD card can be hot-swapped, but you have to remove the back cover to do it, which seems like snatching defeat from the jaws of victory - though by way of slight redemption you can change the SIM without having to yank the battery out.
Once you have loaded your tunes the F490 proves a more than capable music player. Though lacking anything in the way of EQ modifiers or bass boosters, the sound produced is punchy and focused and can be cranked up to a decent volume without coming apart at the seams. Extra marks for Samsung for giving the F490 a 3.5mm headphones jack alongside the proprietary port that the supplied hands free rig plugs into and the capacity to set up playlists on the hoof. As you might expect audio file support extends to ACC, ACC+, MP3 and WMA.
The F490's camera is a 5 megapixel job, up from the rather lacklustre 3.2 megapixel item on the F700. The flash is still an LED which is about much use as a chocolate teapot, but in good light we found the F490 to be a decent little snapper. For a direct comparison with another popular 5 megapixel camera phone we took the F490 and a Sony Ericsson K850i out into The Register's Versailles-like private gardens and snapped some pictures of our surroundings.