Samsung SGH-F490 cameraphone
An altogether more run of the mill device
If we have to be picky (and we do), we would like to be able to reduce the font size that the contacts menu displays and to set the home screen wallpaper as the background to the Croix menu. The option to have two sizeable time zone clocks displayed on the home screen was a simple feature that impressed us mightily on the F700 and does so no less on the F490, ditto the inclusion of a voice recorder.
A neat little improvement over the F700 is the new combined on/off and lock slider on the right hand side of the device, which makes powering up and down and locking the screen much easier.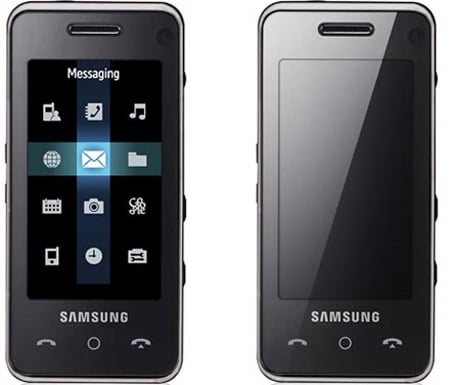 The screen is bright and promises great things for video playback
Something that we guarantee will get on your nerves after an while, though, is the incessant beeping noise the F490 makes whenever you touch a key or change a setting. The arguably pointless VibeTonez haptic feedback can be shut off - thank God for small mercies - but the keypad tones can't, though you can choose from two equally annoying sets of sounds.
Of course if you like your handset to sound and feel like a bionic guinea pig on speed, then crank the haptics up and knock yourself out - but be warned, if you do this in public you will find yourself the subject of ridicule at least if not actual physical assault.
After about an hour with the F490 we set it to silent mode, which seemed an extreme course of action to the shut the thing up, but it was either that or hit it with a brick.