Suits could soon lose grip on Java
JCP chief cautious on roadmap
A roadmap for reform, potentially exposing the Java Community Processes' inner workings to external scrutiny and ending a culture of closed-door meetings, could be made public in the next few months.
That's according to recently elected chairman Patrick Curran, who told Reg Dev he believes a set of milestones to update the 10-year-old organization could be in place and enacted this year.
Curran did not go into details of what could change when we talked, but he has met with JCP executive committee members in Paris in recent weeks, where the topic of reform was on the table.
"I hope within a few months we could publish a roadmap, which will probably cover two to three milestones - non controversial stuff, then the more substantial reforms," Curran told us.
"The goal will be to make us a little more agile, a little more open... and to counter some of the criticism, some of which is justified but some of which is based on peoples' misunderstandings."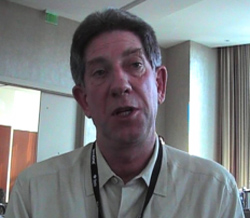 Curran: JCP more agile, more open
He faces an uphill task, as some changes recently called for by grassroots developers could see the very companies that dominate the JCP's powerful 31-member executive committees relinquish their control and - potentially - the rights on their code in Java.
Developers participating in a JavaOne panel this month called for greater representation of individuals in JCP voting and on the executive committees. Another massive hurdle is open sourcing of Java Compatibility Kits, which accompany each Java implementation and that help ensure compatibility. These kits include vendors' intellectual property so what you're really asking is for vendors building JCKs to make their IP available under open source license - that's enough to make most corporate lawyers choke on their cornflakes.
"When you have a significant number of corporations each with their own business process model and lawyers, making such a change requires getting all the lawyers together to discuss and agree - and that takes time," Curran said.
And voting changes? "You can probably guess there may be a little resistance to radical change that might turn the existing order upside down," Curran said.
Curran unequivocally believes in the need for change at the JCP. Among the things that need updating is the tendency for meetings on Java specs to take place in "smoke-filled" rooms, with closed discussions and email lists.
Sponsored: Minds Mastering Machines - Call for papers now open