Sony notion for retractable USB stick just clicks
Sony has taken a leaf out of Biro's book and come up with a retractable USB Flash drive design. Dubbed the MicroVault Click and Click Excellence, the new line up of drives runs from 1GB to 16GB.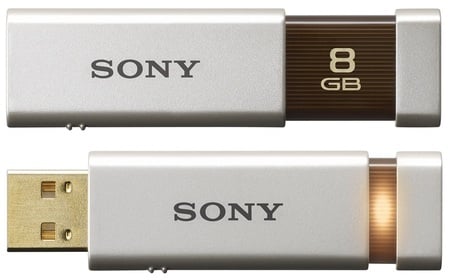 Sony's MicroVault Click: closed and open
The Click Excellence drives are the faster of the two series - they offer a read speed of up to 31MB/s and an 11MB/s maximum write speed - but only run to 8GB.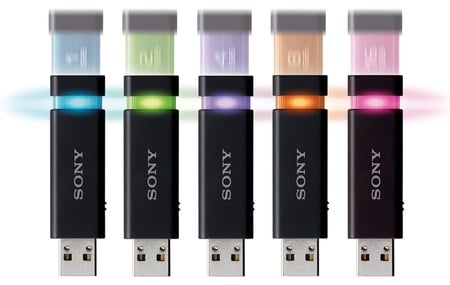 The Click line-up
If you want a 16GB MicroVault, you need the regular Click family, which all come decked in a rather snazzy black casing. The Excellences are white.
All the drives comes pre-installed with Sony's Virtual Expander compression software, which allows users to store up to three times as much data as the stated capacity, though the exact increase depends on the type of files being stored.
Sony said the Click and Click Excellence lines will go on sale across Europe later this month. It didn't say how much they'll cost.
COMMENTS
Looks nice
But does it work well? I've seen many a Sony product look good, then die in 6 months.
And what the heck is with these USB disks all coming with crapware now too? It's bad enough that some come with the crap, but the U3 stuff really ticks me off. Who said they could install fake CD drivers?
All the drives.
"All the drives come preinstalled..." with Sony's proprietary compression software that will only run on certain systems and won't be supported after a few years, might rootkit your machine, and near enough ensures incompatability.
Lessons well learned by everyone's favourite Prop-Tard (Prop-tart?) Company!