RC car puts you in the driving seat
That's how you spell RC
If you haven't passed your driving test yet or live in London then driving a car is probably a pretty alien experience to you. Now a radio-controlled car puts you in the driving seat - virtually - thanks to its integrated video camera.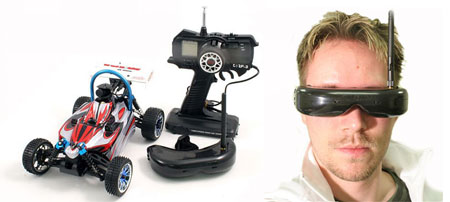 Watch the RC car's movements from street level
The Vision Tracking System (VTS) Camera Car has a video camera built into the fake driver's head, from which real-time driver's eye footage is beamed back to a pair of wireless video goggles worn by you – the real king of the road. This means you'll see every twist and turn of the RC car from, well, floor level.
Can't see the video? Download Flash Player from Adobe.com
A small motor within the plastic driver's head also allows the camera to move left and right as you move your head. So should a floor-level broad honk as you go screaming past, you'll be able to look sideways and catch a glimpse.
As a nice bonus, a microphone embedded into the car even picks up floor-level sound and beams it back to you.
The VTS Camera Car is available now online for £600 (€755/$1200).
Sponsored: Minds Mastering Machines - Call for papers now open