Dell XPS M1730 17in gaming laptop
The machine Dell calls 'The Beast'...
The rear of the machine offers one further USB port and a Gigabit Ethernet connect. The rest of the panel is taken up by a ventilation system that wouldn't look out of place in a wind tunnel, with several fans drawing air in from the bottom of the machine to keep the powerful components at a reasonable temperature.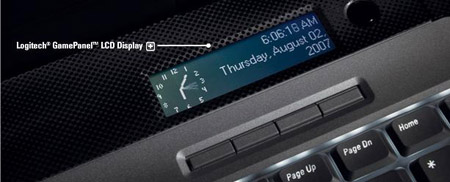 The Logitech mini display is a gimmick...
As with the M1730's cheaper sibling, the 17in Inspiron M1720, there are a bank of multimedia keys on the front of the chassis, letting you control your CDs, DVDs or media files at the touch of a button. Dell also throws in a remote control, letting the more laid back among you to manage your media from a distance.
It's a good machine for watching movies on, the big display featuring a native resolution of 1920 x 1200 pixels, with pin-sharp images on offer. The screen is backlit by regular fluorescent cathode technology, rather than the LEDs found on smaller XPS models. Colours remain accurate across the width of the panel, and it's a pleasure to use. Reflections can be problematic in direct sunlight – as with all such glossy panels - but it remained viewable in all but the brightest of lighting conditions.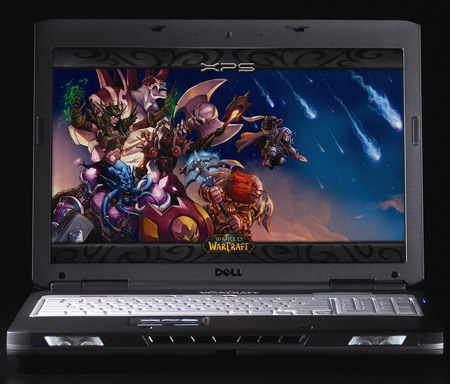 ...but the main, 17in display is a beauty
The display is supported by the best graphics set-up you'll currently find on any laptop: two Nvidia GeForce 8800M GTX GPUs in an SLI configuration. With each chip connected to 512MB of dedicated video memory, the Beast promises far better performance than past gaming laptops.
Dell also promises better performance than rival gaming machines thanks to the inclusion of an Ageia PhysX chip. This handles complex physics calculations that would otherwise be left to the CPU or the GPU. Alas, many current titles haven't been optimised to take advantage of the Ageia chip, and we didn't notice any major benefits during our benchmarking. However, with PhysX due to be integrated into future Nvidia GPUs, it looks likely that more and more upcoming games will take advantage of the technology.
Sponsored: Minds Mastering Machines - Call for papers now open