NASA's Phoenix braces for Sunday touch-down
So far, so good for Martian gig
NASA's Phoenix Mars Lander is looking good for a Sunday touch-down on the Red Planet, with all systems "nominal and stable", according to the agency.
Phoenix is, however, currently "closing in on the scariest seven minutes of the mission" when it must decelerate from 13,000mph (21,000km/h) to just 5mph (8km/h) using a combination of "superheated friction with the atmosphere, a strong parachute and a set of pulsing retrorockets" to achieve a gentle landing.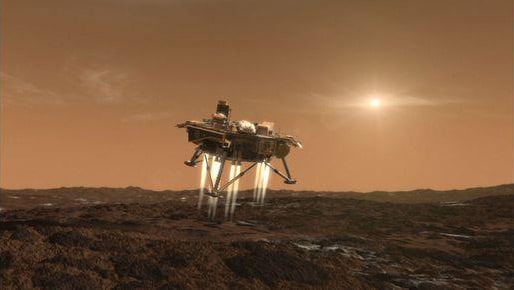 The spacecraft's final destination is an area in the Martian Arctic lying at around 68° north. The biggest threats to the mission are rocks "large enough to spoil the landing or prevent opening of the solar panels". However, Ray Arvidson of Washington University in St Louis, chairman of the Phoenix landing-site working group, recently assured: "We have blanketed nearly the entire landing area with HiRISE images. This is one of the least rocky areas on all of Mars and we are confident that rocks will not detrimentally impact the ability of Phoenix to land safely."
Barry Goldstein, Phoenix project manager at NASA's Jet Propulsion Laboratory in Pasadena, said yesterday: "The latest calculation from our navigation team shows the center of the area where we're currently headed lies less than eight miles from the center of our target area.
"We may decide on Saturday that we don't need to use our final opportunity for fine tuning the trajectory Phoenix is on. Either way, we will continue to monitor the trajectory throughout Saturday night, on the off chance we need to execute our contingency maneuver eight hours before entry."
All being well, the Phoenix team could receive confirmation that their baby is safely down as early as 23:53 GMT on Sunday. Alternatively, silence might indicate that Phoenix has suffered the same fate as six previous unsuccessful attempts to put a spacecraft down on Mars - a hefty percentage of the 11 missions dispatched to the planet.
Assuming Phoenix doesn't do a Beagle, it will set to work to "study the history of water in the Martian arctic" and "search for evidence of a habitable zone and assess the biological potential of the ice-soil boundary".
The University of Arizona has full mission details here. ®
Sponsored: Minds Mastering Machines - Call for papers now open