LG designs double-sided TV display
One side for him, one side for her
So the missus wants some quality time together, but she wants to watch Emmerdale and you want to watch Battlestar Galactica. What do you do? You get yourself a double-sided telly, of course.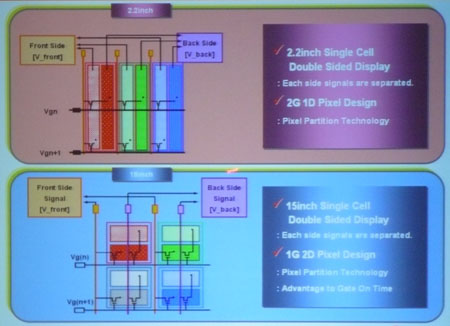 LG's plans for double-sided displays
Image courtesy Tech On
LG recently showed off designs for two prototype double-sided LCD screens at an event in Los Angeles. The first is a 2.2in display intended for mobile phones, allowing a handset to have a main and secondary display made from the same panel.
The second screen measures 15in and could, hopefully, form the basis for a range of big-screen double-display panels.
According to a report by Tech On, both screens eliminate the need for a backlight through use of an Electrically Controlled Birefringence (ECB) display mode.
This method of double-refraction relies on a second, reflective layer being placed inside the panel, allowing the amount of light reflected from the liquid crystal cells inside the telly to be controlled on both sides. Each screen also requires two transistors inside each pixel, instead of the usual one, in order to display images on each surface.
The smaller screen has a resolution of 160 x 120 pixels, while the 15in display boasts a better-than-HD 2048 x 1536 resolution. The 2.2in screen uses the standard red, green and blue pixels to produce colour, but the 15in model adds in white pixels too.
US display firm Clairvoyante said in 2007 that so-called white sub-pixels can help the brightness in each area of a screen to be separately controlled to help reduce overall power consumption. Essentially, the white pixels provide backlight where it's needed rather than across the whole of the screen, as is the case with today's telly backlights.
LG's screens are only at the prototype stage so far, but hopefully two-faced telly and dual-screen mobiles aren't too far away.
Sponsored: Minds Mastering Machines - Call for papers now open