MS bashes Gay(wood) Xbox Live gamer
Brit's surname ruled offside
A Brit gamer has fallen foul of an Xbox live policy that disallows any apparent references to the Friends of Dorothy in gamertags.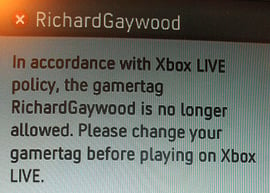 Microsoft recently ruled "theGAYERgamer" well offside, and quickly moved to deal with Reg reader Richard Gaywood's online moniker, as you can see.
Richard told El Reg that MS could have verified the authenticity of his surname from his Live profile, and sighed: "I can't decide if I'm amused or annoyed by this. Amused by it all but annoyed at the stupidity, I think."
We attempted to contact MS for a comment this morning, but our reporter Tristram Hornblower was cut off by the Beast of Redmond's switchboard after his identity tripped the company's "probable homosexualist" panic switch. ®
Sponsored: Are DLP and DTP still an issue?