WD pitches Firewire pocket HDD
Western Digital has released a Mac-friendly version of its My Passport Studio portable external hard drive, fitting the unit with a Firewire 400 port and pre-formatting it with Mac OS X's HFS+ file system.
Sure to please Mac fans? Well, possibly not. While WD was quick to tout the external drive's ability to be powered by the bus it's connected to, it had to admit that this feature only works with USB.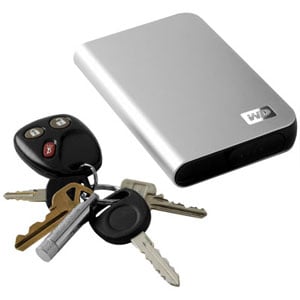 WD's My Passport Studio: Firewire for data only
Mac users who've got Firewire external drives know that the bus is perfectly capable of powering such a device in its own right. Firewire actually delivers a higher voltage than USB does.
Yet WD states in a footnote: "If using the FireWire cable, you must plug both the FireWire and USB connectors into the device."
In which case, why put the Firewire cable in at all? Yes, it's slightly faster, but surely the whole point of a portable drive is the convenience of one-cable connection?
Update
WD has since got back to us to state that the drive uses USB 2.0 and a four-pin Firewire port at the drive end of the cable, not at the host end, where it connects using a six-pin Firewire. It supplies a suitable six-pin Firewire to four-pin Firewire and USB 2.0 cable in the box.
We're happy to clarify the point - though perhaps WD should have made this approach to connectivity more clear on its own website?
WD's drive is available now in 160GB, 250GB and 320GB incarnations priced at $130, $160/£134 and $220, respectively. UK pricing the for the 160GB and 320GB versions was not available at publication time.
Sponsored: Minds Mastering Machines - Call for papers now open