Boeing robot whisper-copter team claims record
Whirlydroid outlasts all comers
Mammoth US arms'n'aerospace firm Boeing has announced test successes for its prototype robot whisper-copter, the A160T "Hummingbird". The company believes it has broken the world endurance record for unmanned aircraft in the A160T's weight class with a flight lasting longer than 18 hours.
The possibly record-breaking test took place last week at the Yuma proving grounds in Arizona. Boeing say that the droid-copter landed with better than 90 minutes worth of fuel remaining, and carried a 300-pound payload during the flight.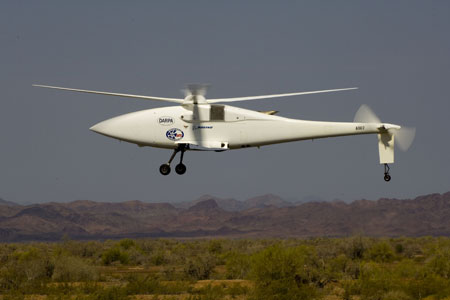 Some positive spin for Boeing from the A160T.
"We didn't set out to establish a world record, but it was a great accomplishment," said Jim Martin, Boeing's Hummingbird honcho.
"The aircraft performed flawlessly, flying un-refueled longer than any other current unmanned rotorcraft. Our customers are excited about this."
Those customers include the US forces, and DARPA - the Pentagon's famous deathboffinry bureau, whose brainboxes prefer to avoid the beaten track*. Various people from these communities would like to use Hummingbirds to carry new and amazing sensors and spyeyes, or perhaps even to pick up or drop off people deep behind enemy lines. More prosaic, heavily armed robot kill-chopper versions are also on the cards.
The A160T is at first glance a fairly ordinary helicopter, apart from lacking a pilot. But it does have some other special sauce - its variable-speed rotors. Most helicopters now flying spin their blades at a constant rate, which is set for best performance at a given speed, height and load. This keeps the complexity of the transmission and rotor hub down, but sacrifices fuel efficiency and quietness.
The A160T, by contrast, is designed to constantly adjust its rotors to the optimum revs. This is what has let it achieve such a long endurance, and it also - according to Boeing - makes the Hummingbird "four times as quiet" as a normal helicopter in the hover.
Boeing also believe that the A160T will be especially good at hovering high in the air - so-called Hover Out of Ground Effect, or HOGE performance. In thinner high-altitude air, many current helicopters can't actually hover unless they are "in ground effect" - that is, almost touching the ground. (In Afghanistan this is especially common.) Boeing are chuffed to reveal that the A160T has also lately demonstrated HOGE to altitudes of 20,000 feet - though they don't say how much payload it had on board, nor how much fuel. It surely won't have been as much as on the endurance flight - Boeing do specify that the HOGE trial lasted only 2.9 hours, with just 7 minutes of hovering. Even so, the Chinook - one of the most capable manned helicopters currently available, very popular in Afghanistan - struggles to hover OGE at 20,000 feet with anything on board at all.
The A160T, then, is definitely changing some rules of the helicopter game - and not just the unmanned part of it. A helicopter which can fly for 20 hours without refuelling, hover at 20,000 feet, carries 1,000 pounds and makes very little noise would be very interesting to a lot of people whether it had a pilot or not.
The main quibbles one might offer are that the A160T is still plainly the wrong colour for a silent government special-ops spy helicopter, and that one Hummingbird has already crashed itself. But Boeing evidently believes it's left the latter problem behind, and apparently there are plans to sort out the paint job. ®
*Though they are always happy to run the risk of the world subsequently beating a path to their door.
Sponsored: Minds Mastering Machines - Call for papers now open