Samsung Adidas F110 miCoach personal trainer phone
Pint-sized Mr Motivator
You can press blindly through the armband, as the miCoach's buttons are large enough to avoid fiddly mistakes. A voice guides you through the workout, giving you updates as you go along, and reporting on your performance at the end. You can compile a list of "motivation songs" for when you need that extra bit of effort – a long press of the central selection key will pull up one at random to give you that Eye of the Tiger moment.
When the workout's over, extensive data from your run is displayed and stored by the system, and each workout is added to a dedicated miCoach calendar. You can pull up info for any day, if you want to check your progress.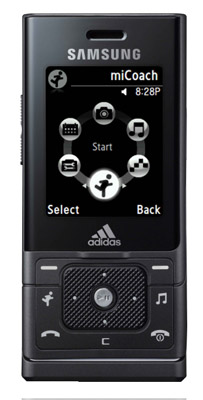 Tapping the runner-icon button produces a carousel of six icons
You can schedule a variety of different workouts yourself in the miCoach application, adjusting your goals with a complex series of settings adjustments. However, the real beauty of the miCoach system comes when you synchronise is with your PC - there's no Mac software - and the miCoach website.
Data from your run is uploaded and displayed on the site in detail – so you can monitor on graphs your heart rate, pace and over the course of individual workouts. More importantly, you can set goals for your training – whether it's to start running, get fit and stay fit, lose weight, get fit for a race, improve race times or boost speed. A coaching plan can be synced with your phone, taking into account your fitness level assessment, days you're able to workout and the goals you've set. The programme is then loaded onto your phone.
These coaching programmes can run for several months, with a wide variety of training runs included. The miCoach application is nothing if not ambitious.
The coaching extends to narration as you're running, with the app's voice advising you when to increase speed or slow down, and offering you guidance and updates as you progress through the session. For nearly all of us amateurs who assume you just have to keep running more to get fit, the system really helps by bring forward ever more refined training methods.