Consoles blamed for Japanese arcade sales slump
Arcades shutting down across Japan
Videogame arcades are big business in Japan. Or, rather, they were. Unfortunately, the country's homes are so clogged with entertaining technology that the trade's multi-billion Yen value is being eaten away.
Japan's arcade industry may be worth around ¥6.9bn (£33.8m/€42.4m/$66.4), according to Reuters, but some arcades are closing their doors because trade's being diverted away by the popularity of home games consoles and handheld gaming devices, such as the PlayStation Portable.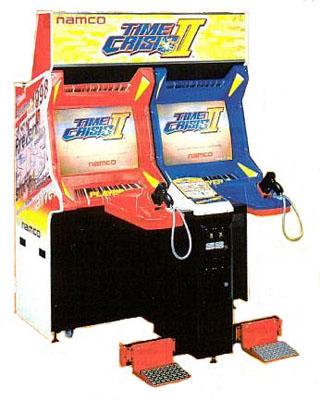 Do games like Time Crisis still draw you into arcades?
Sega Sammy Holdings Inc, for example, plans to close 110 arcades – around one quarter of its outlets in Japan. Rival Namco Bandai Holdings is to shut 20 per cent of Japanese arcades – about 50 to 60 venues. A timescale for either closure hasn't been given.
Analysts also told Reuters that high petrol prices and police checks to ensure that Japanese youths aren't staying out too late are hitting arcade profits hard.
Arcades aren't such a big draw in the UK – unless you like penny slot machines and crane games filled with rubbish prizes – but they still draw some gamers because they're able to hold games that can't be played so easily at home, like retro title Time Crisis.
However, HSBC analyst Carlos Dimas told the newsagency that the arcade slump could recover in Japan if the "next big thing" can be invented. But the problem is that it hasn't been… yet.
Sponsored: Minds Mastering Machines - Call for papers now open