Vendor pitches handheld phone-data extractor
Snooping made easy
If you've got a hunch that your partner is doing the dirty behind your back, then thank your suspicious stars that a gadget's now available for instantly copying the entire contents of his or her mobile phone.
The Cell Seizure Investigator (CSI) stick is claimed to quickly extract all sorts of information from handsets, including sent and received SMS messages, phonebooks and pictures - basically everything on the phone.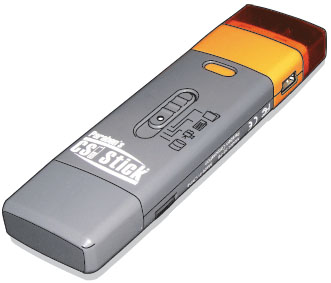 Paraben's CSI stick: mobile phone snooping made easy
Manufacturer Paraben isn't specifically marketing the CSI stick as a device for snooping on your dearly beloved, but the firm does claim its gadget opens the world of digital forensics to anyone that needs to "gather forensic-grade data" from a mobile phone.
Various adaptors are supplied with the stick to ensure it'll fit a range of mobile phones, although so far the CSI stick only works with Samsung and Motorola handsets.
Once you've copied the 'incriminating' evidence, you'll be able to search through the various forms of data using PC-based forensic analysis software, also from Paraben.
The CSI stick is available now online, with prices ranging between $200 (£100/€130) for the basic CSI stick package and $1800 (£900/€1150) for a kit containing the stick and forensic software.
Sponsored: Minds Mastering Machines - Call for papers now open