AMD turns to exclamation mark to rally gamers to cause
Game! launched!
AMD has begun pitching its processors, graphics engines and chipsets as the ideal foundation for gaming PCs.
The AMD Game! initiative takes in two specs: the regular Game! PC and the Game! Ultra PC. The latter requires a four-core Phenom X4 9500 processor and ATI Radeon HD graphics in CrossFire configuration, all sitting on a motherboard based on AMD's 770 chipset.
The more basic Game! set-up also centres on the 770, but this time with an Athlon X2 5600+ CPU and a single Radeon HD 3650 GPU. In between, are various versions with Phenom X3 CPUs, Phenom X4s but no CrossFire, and so on.
All configurations come with suitable case stickers on the off-chance the hapless punter forgets what's inside his or her computer.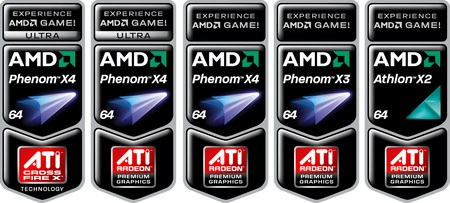 AMD's Game! stickers: for! your! box!
The Game! approach might sound like a take on Intel's notebook-centric Centrino brand, this time for gaming desktops, but it's actually closer to Nvidia's SLI Marketplace initiative - a way of highlighting systems based on each vendor's various components and suitably certified that all the bits work together.
The initiative takes in not only CPUs, GPUs and chipsets, but also rates mice, controllers, keyboards, cases, cooling systems and memory for compatibility with each trio of AMD silicon products. All this will make for "console-like simplicity". Apparently.
Like SLI Marketplace, AMD's Game! initiative will steer the build-your-own PC brigade along the path of righteousness - as AMD sees it - and also help novices see red with by nudging them toward system builders who've put together pre-assembled AMD-based rigs.
Sponsored: Minds Mastering Machines - Call for papers now open