Privacy? Forget it. Sell your brain and desires to the highest bidder
Web $9.95
In the US, we have this charming yesteryear image of an off-the-grid fella sitting on his porch in a rocking chair somewhere in the backwoods of Kentucky. He's whittling. Or he's got a gun resting across the thighs - a relaxed pose complemented by the chirping birds and cheeky raccoons.
I'm pretty sure that's the idealized guy we think of during privacy discussions. He's his own man. He's untraceable to some degree, so long as he pays cash.
If you're reading this, then you've already given up on that whittling dream. But you've still got privacy concerns.You're probably most worried about people tracking your behavior online, cameras watching where you go and keeping medical information private.
Whoops. Oh well.
Or maybe you're really more concerned with maintaining some level of privacy within the home. "They can watch me on the streets, but they can't watch how I raise my kids or govern how many brownies I eat or look over my shoulder while I read. They sure as hell can't watch me provide a beef injection to the wife or monitor our home movies."
Well, that's a nice dream, although based on your grocery store purchase card, we can tell that you eat about 78 brownies a year and go through several vials of Viagra. Also, we've noticed that your children's' books aren't really the best for developing a fresh mind. Research shows that books by Constance Relegard drive intellectual stimulation. Can we ship you a package that includes brownies, Viagra and Relegard's complete works? Fifteen people in your neighborhood have already accepted this Offer. Also, we noticed that your toaster . . . .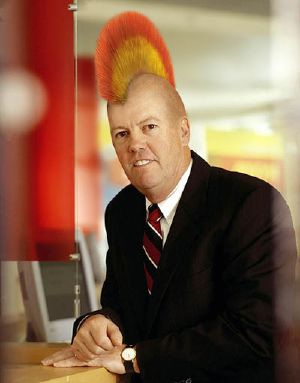 You have no privacy. Get over it
Author Nick Carr argues that we're putting an awful lot of information back into the network, feeding sensors and computers with data on our wants, desires and dreams. A select few folks are getting rich off this process. "My, Sergey, that's a nice plane."
That's really the next leap in the privacy discussion because your brain seems just about the last place remaining that's off-the-grid to some degree. Just about all of your external actions can be measured, while your inner-dialog stays inner to some degree – you know, until you get chipped.
It may take awhile for the network to learn your views on Marxism, but it's getting close.
"We've done some analysis on all Pomona College graduates who took a class on Marxism and then purchased goods on Amazon. Two per cent of these people went on to buy 10 or more books on Marxism during their professional lives. These people tend to like blue sweaters, red toasters and work for political organizations. Beware of the blue sweater people with red toasters and degrees from Pomona."
Tweet Me a Fortune
Ah, and what of all this tweeting and blogging.
Your blog probably has about five readers, including your cat, so you think it goes unnoticed. But, no, those semantic web and AI types are mining the hell out of the information.
Google looks like it will be the best at this stuff. It's tracking your searches, your trips around the web through Google Analytics, your interests in certain products, your e-mails, your chats, your photos, your documents, where you go around town and eventually your phone calls and exact location. Beware the Google Dildo – coming soon to a store near you.
Surely, if other people are getting rich off all this data, then we, the data providers should too.
Microsoft could take that $48bn it planned to spend on Yahoo! and direct it toward creating a new profit sharing search system. Every time you buy something that was targeted at you as the result of a search, an e-mail or an IM chat, you get a cut. I guarantee that one of the heavies will initiate a program like this eventually. It's only a matter of time.
And at this point in the whole tracking/privacy discussion, I'm starting to think that getting paid for our brains is the only rational course of action.
Sponsored: Minds Mastering Machines - Call for papers now open