Pentax Optio V20 compact camera
Sweet and simple?
Review Chances are that many pics in your photo album are of family and friends. Little wonder then, that camera manufacturers are devoting a lot of time and energy in providing features designed to help us take even better people shots.
The Pentax Optio V20 not only offers Face Detection technology but combines it with a Smile Capture mode and a system designed to warn you when your subject blinks. Sounds impressive, but how good is it?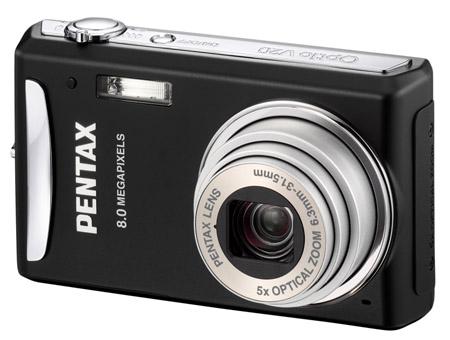 Pentax's Optio V20: doesn't leap out at you
In terms of design, the Optio V20 doesn't really stand out from the crowd. That's not to say it doesn't look good, but it certainly doesn't jump out at you on a shelf full of cameras. That said, it has a clean, uncluttered design and is very compact, measuring 97.5 x 56.5 x 23.5mm and weighing 145 grams with battery and memory card. Our version came in black and silver and looked pretty smart.
The front of the camera is neat and flat, save a raised a silver bar that acts as a grip. On top is a small power button, large shutter button and zoom dial. The back of the Optio V20 is dominated by a large 3in LCD screen and a Face Priority mode switch that is also used to select the Smile Capture mode. Below this are a small playback button, four way controller, menu button and Green Mode button which offers a fast way of returning to the standard settings. Underneath is a flap for the battery and SD card.
COMMENTS
Blink
"Likewise, the blink warning system is supposed to tell you that the subject has blinked and that you should take another shot. It would have been more useful if the Optio V20 did this automatically."
Well, I don't think it would be good if the camera did it automatically at all, really. You see, it takes a couple of seconds to write the image to the card at highest resolution, plus there is definitely some lag for the flash to recharge. People would end up getting lots of pictures of the floor, or of the subjects walking away... If it's "manual" (and if it worked), you have to warn the subjects that a new shot has to be taken because someone blinked and all that.
Low light performance
You don't mention the "speed" of the lens in this review, and there's no indication of it on the barrel (eg 1:2.8, 3.5 etc). You do mention some noise at higher ISO settings... just wondering how this camera really performs in low light? It could be that the reason the max aperture isn't mentioned anywhere (on the lens or presumably on any of the literature you had) is that it's on the slow side and Pentax are keeping quiet about it. Not necessarily a problem for everyone, but something worth investigating a little I'd have thought.
Explanation for the non-photographic - the lens doesn't let much light through, meaning pictures in low light or without flash may be a bit rubbish. Possibly.