Domed projection screen promises immersive gaming
One to watch?
The dream of totally immersive videogaming could soon become reality, thanks to one gaming geek's efforts to create a full-field-of-vision display system.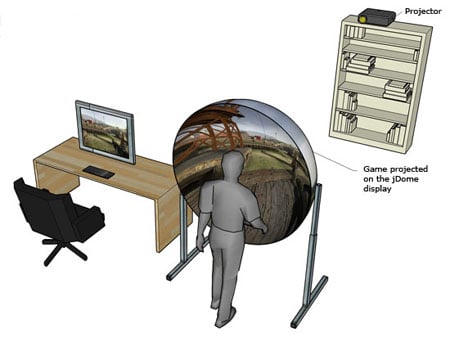 The jDome could submerge you into GTA IV shoot-outs
Inventor John Nilsson claims to have already been granted a patent for his jDome, which is essentially a hemispherical projection screen. Gamers simply connect their PC to a projector and angle the light beam onto the jDome's outer surface.
Video action is viewed on the dome's inner surface, with the user standing in front of the device.
Can't see the video? Download Flash Player from Adobe.com
Nilsson told Register Hardware that the jDome then fills almost all of the gamer's field of vision, making the player feel totally immersed within the game.
The jDome's obvious disadvantage is that owners must first have enough space to erect a giant dome in and be willing to stand in front of the unit while playing a videogame. But the inventor maintains that players will be able to detect peripheral game details, such as sharp-shooter enemies, out of the corner of their eye more readily than they could on a flatscreen display.
Nilsson still working on the prototype, but you can get a one-off model for a whopping $6000 (£3000/€3800), he said.
Sponsored: Minds Mastering Machines - Call for papers now open