How to rescue Java from the men in suits
Gives us liberty, not legalese
JavaOne Open source and Java developers are calling on Java's governing body - the Java Community Process - to open up beyond the big players.
Members of a JavaOne panel on the JCP, open source and standards have expressed their frustrations with a process they believe puts corporate interests first when it comes to Java. For once, it wasn't just Spring Framework creator and evangelist Rod Johnson calling for change.
Joining him was Sun Microsystems' own, recently recruited, "free and open source software ambassador" Dalibor Topic and representatives from one of the industry's newest Java user group - the Paris JUG - plus one of the largest - Brazil's SouJava. Brazil is a country Sun repeatedly champions when discussing uptake of Java and open source.
Top complaints?
Onerous membership terms
A culture favoring closed-door meetings
Failure to open up essential Java reference implementations and test compatibility kits
A system that's produced executive committees where just three of the 31 participants are individual members. The others represent big interests - Google, IBM, Motorola, Nokia, Oracle, SAP and Time Warner Cable among others.
At stake is the future of Java, with Topic indicating Java risks missing out on innovation coming from individuals and projects because of the JCP's reliance on vendors. The JCP has grown up being dominated by large companies as a legacy of its past where companies helped establish the group and drive the Java market, Topic said.
Big companies are also suspected of self-serving corporate agendas by moving at different speeds on their support for open source, he said.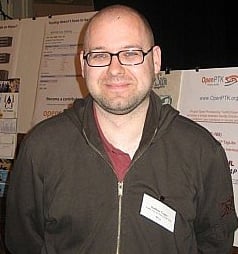 Topic: after 10 years, JCP needs radical change
"The JCP needs to change radically," Topic said. "The way the [JCP] works now, is the way it's worked for 10 years - that serves certain commercial interests.
"The environment in which the technology is being created in is changing... People want to shape the future of the platform in useful ways rather than stand outside the gates."
Topic's criticism is poignant for Sun, which founded the JCP in 1998 and who you enter a legal agreement with when joining the group. He's the kind of person Sun wants to appeal to and help it build a bridge to open source developers - hence Topic's recent appointment as Sun's free and open source software "ambassador".
More individual participation could mean less vendor-led Java Specifications Requests (JSR) - the precursor to a final Java API - with technologies that reflect real-world needs.
Fit for purpose?
Rod Johnson in March cited the creation of Entity Beans - a type of Enterprise Java Bean (EJB) that was part of the JCP's Java Enterprise Edition spec - as setting back the cause of object-relational mapping by six years and for causing billions in wasted investment. Johnson did not elaborate in March, but he was recalling a time when there'd been wide-spread feeling (here and here) Entity Beans were needlessly difficult to code.
More recently, there was debate (here and here) on potential overlap between the existing work of the OSGi and the JCP's JSR 277 for a Java module system.
JSR 277 will now be fairly simple and won't cover all use cases, according to Sun computational theologist Alex Buckley, also on last week's JCP panel. JDK 7, for the next implementation of Java Standard Edition, will also allow for OSGi modules to be used "out of the box", according to Buckley who is responsible for "the moral and technical integrity of the Java programming language" in his role as theologist.
Johnson said a balance needed to be struck between enshrining technologies as standards and allowing technologies to become de-facto standards. The former are harder to change and become a burden to developers who must adhere to the standard if, and when, the market moves on. "There's a fundamental question of whether a technology is fit for purpose," he said to the question of when it's appropriate to standardize a technology.
For all its faults, JCP critics do not advocate ripping up and starting again. Topic thinks the JCP is the best thing we've currently got for bringing together the big boys and the little guys. Johnson, by contrast, believes many of the structures are already in place to effect the necessary changes at the JCP - things such as voting and the holding of regular meetings.
Sponsored: Minds Mastering Machines - Call for papers now open