Olympus mounts 10Mp DLSR challenge
DSLR range expanded
Olympus has extended its old-school E-500 snapper series, with the creation of another 10-megapixel digital SLR (DSLR) model.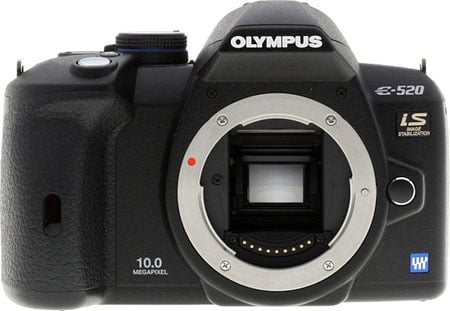 Olympus' E-520 is its latest 10-megapixel camera
The E-520 sports a sizeable 2.7in LCD screen which is designed to provide a broad colour gamut and better viewing in extreme lighting conditions, Olympus claimed. The screen is already part of of several Olympus cameras, including the E-420 DSLR and Stylus 850 compact camera.
Face-detection is also included to help pick out and frame your friends in each image – although this feature is becoming increasingly common, even with cheap compact cameras. A dust-reduction system on the E-520 should ensure all your snaps are clear and crisp.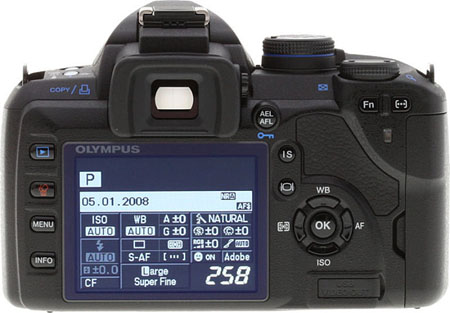 The camera's highest ISO sensitivity is a decent 1600 and the ability to shoot at up to 3.5 frames per second should mean you don't miss, say, any of the kids' goals at football next Sunday. There are also 32 pre-set scene modes to choose from if you're new to DSLR snapping, including night mode and children.
Storage options include Compact Flash and xD Picture Card, and a USB 2.0 port's built into the camera's body for moving files onto your PC.
Olympus' E-520 will be available next month at a body-only price of £480 (€604/$935).
COMMENTS
A refreshing change
Pleased to see at least one manufacturer not getting obsessed by the megapixel race, but instead realising it had a good physical platform and building on it without screwing around with the basics. Perhaps if a few more did the same, the Panasonics (and similar) of this world who produce otherwise excellent cameras blighted by pointless resolution one-upmanship, might see the light and deliver some crackers. Wouldn't it be nice to read a technically-oriented review that didn't have an implicit sigh when mentioning the "inevitable megapixel hike"? Sadly though there are enough sheep in the world who still think megapixels are the be-all-and-end-all, that this won't happen any time soon. Probably better to hope for some radically new sensor technology that can keep everyone happy, perhaps based on captured UFO technology or something. Oh, did someone mention Foveon? It'll never sell to the sheep - it's too honest; why would any sheep want to buy a camera with only a third of the megapixels?!
Meanwhile, go Olympus! But please put SD on your next update.